Ron George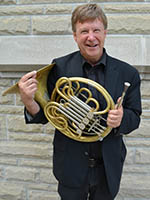 Lecturer
Horn
Office: MB 235
Phone: (519) 661-2111 x84317
Email: rgeorge3@uwo.ca
Ronald George is a musician in a variety of roles: teacher, soloist, chamber and orchestral player. He has been principal horn with Orchestra London Canada since 1979 and appeared as soloist with the orchestra numerous times.  
Born in San Francisco, Ron's studies began with Earl Saxton and Robert Creech through high school in Vancouver. At the University of Toronto, he studied with Eugene Rittich. In Germany he worked with Hermann Baumann.
He has performed with Toronto, Detroit, Kitchener-Waterloo and International Symphony Orchestras, Calgary Philharmonic, Hamilton Philharmonic, Thunder Bay Symphony Orchestra, National Arts Centre Orchestra, Orchestre Symphonique de Laval, Tafelmusik Baroque Orchestra, Aradia, Arion, Talisker Players and Opera Atelier. He has appeared with the Canadian Opera Company, notably in their production of the Wagner Ring Cycle. He has recorded with Pinchas Zuckerman (National Arts Centre Orchestra), Gary Cooper (Arion), and Bruno Weil (Tafelmusik). Tours have included Europe (Calgary Philharmonic) and Japan (Opera Atelier).
As chamber musician, he has appeared at the Ottawa Chamber Music Festival, the Westben Arts Festival and collaborated with Orchestra London colleagues.
He is a dedicated teacher and proud to have worked with some of Canada's finest young musicians at Western. In the summers, he has worked for many years at Interprovincial Music Camp.