Peter Franck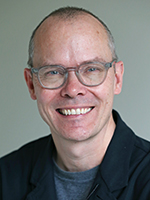 Associate Professor (On sabbatical leave until June 30, 2023, effective July 1, 2022)
Office: TC 318
Phone: (519) 661-2111 x84330
Email: pfranck@uwo.ca
Peter Franck received a PhD in music theory from the Eastman School of Music at the University of Rochester (2007), an MA in music theory from McGill University (2001), a BMus in music theory (Honours) from McGill University (1995), and a diploma in jazz guitar performance from Grant MacEwan Community College in Edmonton, Alberta. His research focuses on invertible counterpoint and how it intersects with aspects of Schenkerian theory and musical form.
Professor Franck has presented papers at conferences for the Canadian University Music Society, Music Theory Society of New York State, New England Conference of Music Theorists, Rocky Mountain Society for Music Theory, Society for Music Theory, the Fifth International Schenker Symposium, and Music Theory Midwest.
Research interests:
Schenkerian Theory
Contrapuntal Theory
Invertible Counterpoint
Jazz Theory
Compositional Theory
Musical Form
Music of J. S. Bach
 Representative publications:
"'A Fallacious Concept': Invertible Counterpoint at the Twelfth within the Ursatz," Music Theory Spectrum 32/2 (2010): 121–144.
"The Theory and Practice of Wedge Progressions within Selected Works of J. S. Bach," Indiana Theory Review 29/1 (2011): 1–40.
"Reaching-Over and Its Interaction with Invertible Counterpoint at the Tenth," Theory and Practice 36 (2011): 1–33.
"Canon and Its Effect on Tight-Knit Organization within Classical Themes," Intégral 26 (2012): 1–45.
"The Theory and Practice of Integrating Invertible Counterpoint into Classical Theme-Types," Intersections: Canadian Journal of Music 32/1–2 (2012): 167–202.
"Structural Framing and Its Interaction with Linkage Technique," Integral 30 (2016): 117–27.
"Schenker's Leading Linear Progressions," Gamut: Online Journal of the Music Theory Society of the Mid-Atlantic 8/1 (2018).