Omar Daniel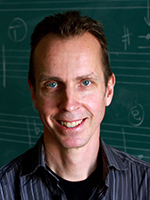 Chair - Music Research and Composition
Associate Professor
Office: TC 338
Phone: (519) 661-2111 x85369
Email: odaniel@uwo.ca
Omar Daniel received his MusDoc in music theory and composition from the University of Toronto in 1995. He joined the DWFOM in 2000, and teaches graduate and undergraduate courses in composition, electronic music, analysis and orchestration.
He is an active composer and has written extensively in solo, chamber, electronic, orchestral and operatic idioms, having received commissions from many of Canada's leading ensembles and performing organizations. As well, his composition prizes include the CBC Young Composer's Competition, the SOCAN Composer's Competition, the K.M. Hunter Arts Award, and he was the 1997 recipient of the Jules Lèger Award for New Chamber Music.
Dr. Daniel has a keen interest in opera and music drama. His critically-acclaimed opera The Shadow was produced in 2007 by Tapestry Opera, and his fifty-minute oratorio The Passion of Lavinia Andronicus was mounted in 2005 featuring the Tafelmusik choir and The Hilliard Ensemble. He is currently in the conceptual stage of a new opera based on the Estonian folk tale Mehetapja (Husband Killer). He has an ongoing desire to work in a collaborative way with writers, and has commissioned original text from Anne Michaels, Michael Redhill and Yann Martel. His compositional endeavors extend to electroacoustic music as well. His innovative, physically risky composition The Flaying of Marsyas has been performed many times since its creation in 2001, and his Annunciation for electronics and string quartet has been performed countless times by the Penderecki String Quartet.
Omar Daniel's current research interests explore the inclusion of ancient Estonian folksong material in his original compositions: Metsa Maasikad (Wild Strawberries), Violin Concerto, Mehetapja (Husband Killer) and Üheksa Eesti Regilaulud (Nine Estonian Runo Songs) all explore this relationship. In 2016 he received FRDF funding to travel to Estonia for research into these ancient texts and melodies.
Daniel's analytical interests are broad, but have a particular focus on composers from northern and eastern Europe including Kurtág, Schnittke, Ustvolskaya, Pärt, Gubaidulina and Ligeti.
Two recent audio recordings feature the music of Dr. Daniel: Land's End Performs the Music of Omar Daniel (Centrediscs 28120) and Kickin' It 2.0 (Centrediscs 26819). A new recording of string music written for violinist Erika Raum will be released in October 2021.

All of Daniel's publications are available through his web site omardaniel.com or The Canadian Music Centre. www.musiccentre.ca