Omar Daniel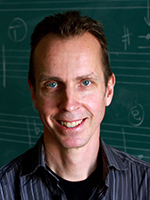 Associate Professor
On sabbatical leave January 1, 2021 to June 30, 2021
Office: TC 338
Phone: (519) 661-2111 x85369
Email: odaniel@uwo.ca
Omar Daniel received his DMA in composition from the University of Toronto in 1995, and before coming to Western University in 2000, he taught at Wilfrid Laurier University. He teaches graduate and undergraduate courses in composition, electronic music, analysis and orchestration.
He is an active composer, and has composed extensively in solo, chamber, electronic, orchestral and operatic idioms, having received commissions from many of Canada's leading ensembles and performing organizations. As well, his composition prizes include the CBC Young Composer's Competition, the SOCAN Composer's Competition, the K.M. Hunter Arts Award, and he was the 1997 recipient of the Jules Lèger Award for New Chamber Music. 
Omar Daniel's current research interests explore the inclusion of ancient Estonian folksong material in his original compositions: Metsa Maasikad (Wild Strawberries), Violin Concerto, Mehetapja (Husband Killer) and Üheksa Eesti Regilaulud (Nine Estonian Runo Songs) all explore this relationship. 
Daniel's analytical interests are broad, but have a particular focus on composers from northern and eastern Europe including Kurtág, Schnittke, Ustvolskaya, Pärt, Gubaidulina and Rehnqvist.
All of Daniel's publications are available through the Canadian Music Centre. www.musiccentre.ca