Mitchell Tyler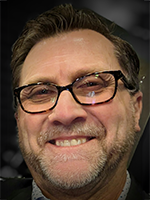 Lecturer
Office: TC 323
Phone: (519) 661-2111 x82043
Email: styler9@uwo.ca
Conductor, arranger, songwriter, bassist and educator Mitchell Tyler is an Honors Bachelor of Music (Theory & Composition) and Bachelor of Education graduate of Western University, and has been a member of the Jeans 'n Classics Band since 1992.
As a performer on upright and electric bass he has shared the stage with many renowned artists including Rik Emmett (Triumph), Alan Frew (Glass Tiger), Roger Hodgson (Supertramp) and Lawrence Gowan (Styx). He has played the touring productions of Chicago (2015) and Mamma Mia (2012). Mitchell's orchestrations are widely performed by the Jeans 'n Classics band as part of its North American symphonic concert schedule. His songwriting and music production activities date back to the early 1980's. Throughout the years he has collaborated with a wide variety of artists on countless projects.
Mitchell is a former contract teacher of string music and classical guitar with the Thames Valley District School Board in London, Ontario and has been a professional educator since 1993. He served as Orchestra London Canada's Education Director from 2010 to 2013. He has extensive experience writing, developing, programming and conducting curriculum-linked educational content for symphony orchestras, currently offered through his company, Symphonic Kids. He has been the musical director for the "almost world-famous" children's entertainment troupe, Dufflebag Theatre since 2008.
As a conductor, Mitchell has had the privilege of working with a wide variety of orchestras across North America. Recent guest conductor appearances include the Springfield Symphony Orchestra, the Erie Philharmonic, the Duluth Superior Symphony, the Colorado Symphony, the Jacksonville Symphony and the Cleveland Pops Orchestra. He continues to immensely enjoy his work with the Jeans 'n Classics Rock Symphony (est. 2012).
In his spare time, Mitchell enjoys playing tennis and touring the ballparks of Major League Baseball supporting his beloved Boston Red Sox.