Mel Martin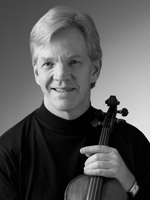 Lecturer
Violin
Office: MB 461
Phone: (519) 661-2111 x81410
Email: mmarti67@uwo.ca
Mel Martin accepted an invitation to join the performance faculty at Western University in 2005, bringing to his post a wealth of experience as one of Ontario's most highly sought after teachers.
He has held the position of Section First Violinist with London Symphonia (formerly Orchestra London) since 1981, where he has also served as Concertmaster and Assistant Concertmaster, and has been featured as soloist on several occasions.
Mel also serves as Concertmaster of the Stratford Festival Orchestra. In addition to chamber music collaborations at Stratford Summer Music, Mel has performed solo and chamber music recitals in Canada, the United States, and Mexico.
A student of Francis Chaplin at Brandon University, and one of the youngest members of the National Youth Orchestra, Mel went on to earn a Bachelor's degree in performance at Indiana University with James Buswell and Franco Gulli, and a Master's degree at the University of Michigan under Paul Makanowitzky and Charles Avsharian.