Martin Ross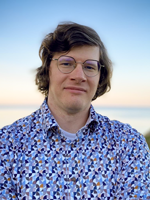 Lecturer
Office: TC 427
Phone: (519) 661-2111 x82043
Email: mross255@uwo.ca
Martin Ross is a Lecturer of Music Theory with a research focus on minimalist music. A recent Ph.D. recipient from Western, his dissertation, "Gesture in Steve Reich's Music and its Signification," uses gesture and Peircean semiotics to explore subjective levels of attention, influence, and understanding in Reich's music from the late 1960s to the mid 1980s. He has presented his research at theory and musicology conferences across North America and Europe.
In his doctoral studies, Martin held multiple academic and service positions. He was a member of Western's Graduate Education Council and sat on the Music Theory Midwest executive board as a student representative. He is currently a standing committee member in the Society for Minimalist Music.
Martin will be contributing to an upcoming edited volume titled
Music and its Narrative Potential: About the Narrativity of Music and of Music as a Distinct Part of an Intermedial Art Work
. His analysis on narrative potential in Reich's
Music for Pieces of Wood
(1973) is part of a section of other Reich essays by notable European minimalist music scholars Pwyll ap Siôn, John Pymm, and Maarten Beirens. The book is set to be released in early 2024 by Brill Publishing.
Martin holds a Bachelor of Music degree in Clarinet Performance from University of Nebraska-Lincoln (2013) and a Master of Music degree in Music Theory from University of Massachusetts-Amherst (2015).