John Cuciurean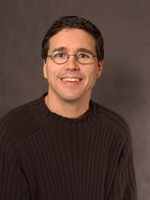 On administrative leave Sept 1, 2023 to Aug 31, 2024
Associate Dean (Undergraduate Admissions & Programs)
Associate Professor
Music Theory
Office: TC 210F
Phone: (519) 661-2111 x85333
Email: jcuciure@uwo.ca
John Cuciurean, Ph.D., is an Associate Professor of Music Theory. Prior to his appointment at Western, he was on faculty at Arizona State University and Florida International University. Dr. Cuciurean received his Ph.D.  in music theory from the University at Buffalo, and holds B. Mus. and B. Eng. degrees from McMaster University, as well as an A.R.C.T. in guitar performance from the Royal Conservatory of Music
Dr. Cuciurean has presented papers on a variety of research topics at regional, national, and international conferences and his research has been published in a variety of journals and scholarly essay collections. He also served as a guest co-editor (with Mike Searby) for a special issue of Contemporary Music Review on the late music György Ligeti.
Current work includes a monograph-length study of Ligeti's middle- and late-period music based on extant sketch materials housed at the Paul Sacher Stiftung which were extensively examined during a recent sabbatical leave — research that was made possible through generous support from the Paul Sacher Stiftung and the Social Sciences and Humanities Research Council of Canada.
Research interests:
analysis of post-tonal music with emphasis on the music of György Ligeti
post-tonal music theory including transformational theory
intertextuality in music and musical meaning with emphasis on post-tonal practices
mathematical modelling of musical systems and scale theory
recent trends in sonata theory
analysis of popular music with emphasis on the progressive rock era
 Representative publications:
"Bridging the Stylistic Divide: Correlating Spatial Voice-Leading and Harmonic Design in Ligeti's Middle- and Late-Period Works." In The Music of György Ligeti, ed. by C. Callender and J. Clendinning. (University of Rochester Press, in process).
"Through the Looking Glass: Mimesis as Interpretive Discourse in György Ligeti's Selbstportrait." In Music: Function And Value. Proceedings of the 11th International Congress on Musical Signification. Kraków, Poland, October 2, 2010, Vol. 2, ed. Teresa Malecka and Małgorzata Pawłowska, 518-30. Kraków, Poland: Akademia Muzyczna w Krakowie and Musica Iagellonica, 2013.
"Aspects of Harmonic Structure, Voice-Leading and Aesthetic Function in György Ligeti's In zart fliessender Bewegung." Contemporary Music Review 31/2-3 (2012): 221-38.
Co-authored with John Clough and Jack Douthett. "Hyperscales and the Generalized Tetrachord." Journal of Music Theory Vol. 41, No.1 (1997): 67-100.