Jackalyn Short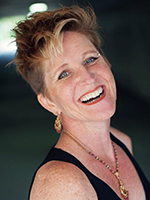 Lecturer - On leave 2023-24
Voice
Office: MB 345
Phone: (519) 661-2111 x84324
Email: jshort4@uwo.ca
Canadian soprano Jackalyn Short has sung leading lyric coloratura roles with every major opera company and orchestra in Canada. Internationally, she has performed in many United States cities, and also in Korea, Japan, Singapore, New Zealand, England and Israel. She has been a regular performer on CBC's Saturday Afternoon at the Opera, and Two New Hours, has been the recipient of several Canada Council grants and scholarships, and is a member of Canada's Who's Who.
Jackalyn has been teaching voice to undergrads and post-graduate students at Western University since 2001. Her duties include teaching vocal technique and coaching repertoire, teaching Italian, French, English and German lyric diction, and instructing her students in the use of the IPA system. Several of her students have won prizes at Kiwanis, have advanced in the Met Competition and been accepted into opera ensemble programs. She is a member of NATS and is an active member of the music faculty, collaborating and performing with fellow professors at the school. Jackalyn has received the top teaching honour at Western every year since 2001.
Ms. Short has been a faculty member of the NUOVA summer opera program in Edmonton, and also Opera on the Avalon in St John's, Nfld.
Jackalyn is married to acclaimed opera director Michael Cavanagh.