Dale Yoshida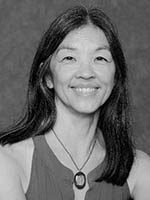 Lecturer
Office: TC 15
Phone: (519) 661-2111 x88396
Email: dyoshida@uwo.ca
As a professional dancer with Canada's Royal Winnipeg Ballet, Dale regularly toured Canada and the United States, and participated in international tours that included performances in Germany, England, Ireland, Greece, Cyprus, Egypt and Mexico. Since retiring from performing, Dale has been teaching and choreographing in London and the surrounding area.

In the School of Kinesiology, Faculty of Health Sciences, Western University, Dale taught Ballet Fundamentals from 2005 through to 2011. She continues her position of Lecturer in the Don Wright Faculty of Music, Music Education department at Western and enjoys her role as co-director of "Studies in Motion", an annual production of student compositions. Since 1987, Dale has taught all levels of ballet in Western's non-credit program, first through Part-time and Continuing Education and most recently through Western Mustang's Campus Recreation.

Dale is a Life Member of the Royal Academy of Dance and maintains Registered Teacher status with this organization. She is also on staff at the North London Dance Centre in London. Her community involvement includes guest teaching throughout Southwestern Ontario, contributing to London South Collegiate Institute's bi-annual performance productions by serving on the audition panel as well as choreographing since its beginning in 2003 and acting as a board member with the FLUX London Dance Festival during the 2015 and 2016 seasons. Dale was honoured to be named to the 2017 Mayor's list for her contribution to the Arts.