Catherine Nolan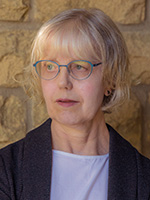 Professor
Office: TC 229
Phone: (519) 661-2111 x82043
Email: cnolan@uwo.ca
Catherine Nolan holds a PhD in music theory from Yale University, as well as an MPhil in music theory from Yale, an MA in music theory from McGill University, and a BMus in composition and music theory (honours) from McGill. Prior to her appointment at Western, she taught at the University of Alberta, McGill University, Yale University and Vanier College in Montreal.
In her courses in music theory and analysis, Catherine strives to teach students to recognize and appreciate the relationships between music theory, music analysis, and larger contexts of humanistic inquiry.
Catherine's research interests include modernist music of the 20th century, particularly the late music of Anton Webern, music of the late 20th century, transformational theory, and mathematical models in music theory and their history. Her recent research continues her obsession with the late music of Webern, and expands its focus with the aid of feminist theory and criticism to consider the neglected significance of poet Hildegard Jone, whose texts profoundly shaped the genesis of all Webern's late vocal works. Her publications have appeared in periodicals such as Journal of Music Theory, Music Theory Spectrum, Music Theory Online, Canadian University Music Review, and in essay collections such as The Cambridge History of Western Music Theory, The Princeton Companion to Mathematics, Reader's Guide to Music: History, Theory, and Criticism, and Weinzweig: Essays on His Life and Music.