Alumni Wall of Fame 2017
Congratulations to the 2017 inductees: Clark Bryan, BMus'90, MMus'92 and Lori Burns, BMus'84, who were honoured at the Alumni Awards Dinner on Friday, October 20, 2017. View photos on Flickr.
---
Clark Bryan, BMus'90, MMus'92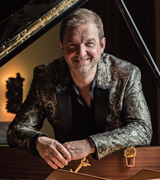 Clark Bryan, BMus'90, MMus'92, is an award-winning concert pianist and has performed internationally, recorded 14 CDs and been featured on radio and television. As a teacher, Bryan has taught thousands of students, adjudicated more than 50 music festivals from coast to coast to coast in Canada, given dozens of workshops and written a book, Gateways to Learning and Memory.
The founder of The Aeolian Performing Arts Centre, Bryan believes everyone should have universal access to music, art and culture.
In 2011, he launched El Sistema Aeolian, a free, intensive music program offering hundreds of children and youth an opportunity to experience the joy of a rich musical experience. In 2016, Bryan secured Bishop Cronyn Memorial Place, a second facility to develop an education centre. Shortly after, he co-founded two new programs: Pride Men's Chorus London, a choir open to men of all backgrounds and identities, and Rebelheart Collective, a conductor-less chamber orchestra that offers mentorship to young apprentices and provides free tickets to every concert.
Over the years, Bryan has developed several programs that have directly benefited music students at Western, including many professional opportunities such as co-ops and internships, as well as part- and full-time employment. When Western music students practice and perform with El Sistema groups, both benefit from the relationship.
Bryan is engaged in community activism and speaks regularly at events, in the media and has given a TEDx talk about the power and joy of music study. He has been awarded Musical Personality of the Year (2005) and the Jack Richardson Award for Community Contribution (2011).
---
Lori Burns, BMus'84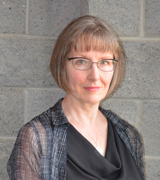 Lori Burns, BMus'84, is a national leader in music education and an internationally recognized scholar in the field of popular music. Currently, she is a Professor of Music and Director of the School of Music at the University of Ottawa.
Intending to become a music librarian, Burns found herself constantly drawn towards music theory, inspired by "the amazing professors of theory at Western who offered brilliant teaching, generous mentorship and professional encouragement," she said.
Following teaching fellowships at Alberta and Harvard, Burns accepted her first academic appointment at Ohio State in 1991 before joining the faculty at the University of Ottawa in 1993. Since that time, she has distinguished herself in all three capacities of academia: research, teaching and academic service.
As a researcher, she merges cultural theory and musical analysis to explore representations of gender in popular music. She developed methodologies for the interpretation of pop music and culture that have redefined how the genre is studied. Her pioneering work is highly regarded, published by top-tier journals and often cited.
Burns is a beloved educator and a highly sought-after mentor to graduate students. In 2012, her strong record of research, teaching and mentoring earned her the title of Professor of the Year.
In academic service, Burns has held multiple leadership roles including Vice-Dean (Research) in the Faculty of Arts and is currently co-editor of the prestigious Ashgate Popular and Folk Music Series. As Director of the School of Music, she has spearheaded new programs and scholarships, infrastructure development, and community outreach.
Burns' work in popular music began with attention to the work of female artists and she remains a strong advocate for gender diversity. In recent years, she has been drawn into the field of multimedia studies and has emerged as a leading voice in considering how music and images correlate.
In addition to her Western degree, Burns received her PhD from Harvard in 1991, her MMus from the University of Alberta in 1986 and her ARCT in piano performance from The Royal Conservatory of Music (Toronto) in 1980.