Aaron Hodgson named Teaching Fellow at Western
Aaron Hodgson named Teaching Fellow at Western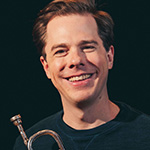 Congratulations to Aaron Hodgson, 2022-2025 Teaching Fellow at Western. Western's Teaching Fellows are outstanding educators who, in partnership with the Centre for Teaching and Learning, provide educational leadership to the university community, perform research on teaching and learning, and disseminate the outcomes of their work locally, nationally and internationally.

Aaron's project, Rethinking Applied Music Instruction, will create novel, discipline-specific opportunities for collaboration, knowledge exchange, investigation of teaching practices, and professional development for colleagues teaching the course Applied Music Instruction. This course focuses on the study of solo performance on a musical instrument and, primarily, is taught one-on-one, with over 50 instructors teaching hundreds of students. To build community around, and capacity in, teaching and learning, Aaron will investigate the innovative teaching practices already being employed within the department and broader field, as well as the relevant research literature, and share those practices back with instructors through retreats, workshops, the Music Pedagogy Speaker Series, classroom observations, and consultations. Aaron will also develop a new, graduate-level experiential learning course, Pedagogy Internship, where students will teach applied music on an ongoing basis, reflect on their teaching and, within small groups, offer one another feedback and study relevant research. Students in this course will also develop a portfolio of professional materials.

The Faculty-specific Teaching Fellows carry-out educational leadership and innovation projects in areas such as eLearning, experiential learning, Indigenization and decolonization, and sustainability and climate change education, among others. They are partially seconded to the CTL for a three-year term and receive funding to develop, implement, and conduct research on the impacts of their innovations. They also support educational excellence within their own Faculties by mentoring colleagues, coordinating workshops, facilitating learning communities, and providing other instructional development opportunities.
Meet all four 2022-25 Teaching Fellows (via Western News, June 15, 2022)