Coates dominates new issue of pop music journal
Coates dominates new issue of pop music journal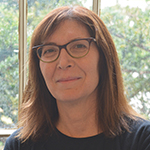 The impressive reputation of Norma Coates, a professor in the Don Wright Faculty of Music and the Faculty of Information and Media Studies, is demonstrated in the current issue of one of the leading scholarly pop music journals. Dr. Coates' work dominates the pages of Journal of Popular Music Studies, vol. 31, no.3. The current issue includes: a book review she has authored; a transcript of a speech she gave at a conference plenary session; a reprint of one of her most well-known publications; an appraisal of the importance of that publication by another scholar; and finally a response from Dr. Coates to that appraisal.
The author of the response piece, Leah Branstetter, describes Dr. Coates' 2003 article, "Teenyboppers, Groupies, and Other Grotesques: Girls and Women and Rock Culture in the 1960s and Early 1970s," as "foundational to the branch of girlhood studies concerned with how girls and young women interact with music and related media—and, in turn, how this interaction empowers them to voice their political concerns." Branstetter describes the ways in which Dr. Coates' piece permanently changed her own thinking about these issues, saying it "helps me understand how the misogyny I encounter in [rock culture] operates and to know its history." She concludes, "So to everyone who is working to change the conversation about women and rock: I enthusiastically recommend a read or a re-read."
The Journal of Popular Music Studies is subscription only, but can be accessed through Western Libraries website. All these contributions, including the reprint of Dr. Coates' original article, are available there.