Guitarist, composer Madeline Hall, current BMus student, named to CBC Music's annual classical "30 under 30" list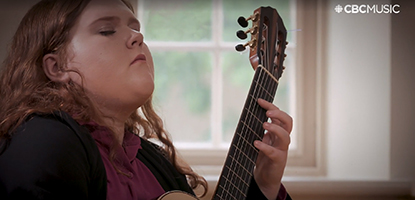 Current Bachelor of Music student Madeline Hall has been named to the 10th anniversary edition of CBC Music's annual 30 hot Canadian classical musicians under 30.

Each year the list celebrates the accomplishments of Canada's hottest young classical musicians who are "highly skilled, creative, disciplined, determined to make their mark in the world of classical music."

Guitarist and composer Madeline Hall is heading into her final year of Performance in the Bachelor of Music program. She revealed to CBC Music, "One thing a lot of people don't know about me is that I got my start in guitar by playing heavy metal. If you told 12-year-old me that today I'd be pursuing classical guitar as a career, I would've thought you were insane."

Nevertheless, at age 15, Hall made the cogent decision to begin classical guitar lessons with Wilma van Berkel, with whom she studies to this day at Western University. "She has taught me basically everything I know about classical guitar," Hall reflects. "What's also inspiring is that she's had the patience to put up with me for this long."

As the winner of the 2022 Kiwanis Music Festival of London Rose Bowl, Hall performed Manuel de Ponce's Concierto del Sur with the London Sinfonia in January. Earlier that month, she won second prize in Western University's Maritsa Brookes Concerto Competition, and will perform as a soloist with the Western University Symphony Orchestra in the coming concert season as a result. She's already looking ahead to her graduation recital in March 2024, when she'll play her own piece for guitar and voice.
As one of this year's inductees, CBC invited Hall to Toronto's Enoch Turner Schoolhouse to play music. Enjoy the following performance of José Luis Turina's Sonata, Op. 61, I. Allegro. Recorded on June 27, 2023. 
Photo (screenshot) and video shared via CBC Music

Read the full feature via 30 hot Canadian classical musicians under 30, 2023 edition.