Doctoral student Ethan Allers joins Winnipeg Symphony Orchestra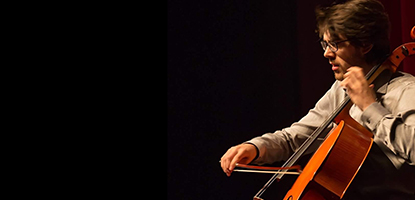 Congratulations to doctoral student Ethan Allers, cello, who has recently accepted a position with the Winnipeg Symphony Orchestra and will be joining them for their fall 2023 season.

Ethan was one of five strings students selected this year as part of the inaugural London Symphonia Fellowship program, and while also performing as section leader and serving as a teaching assistant with the Western University Symphony Orchestra.

A native of Calgary, Ethan Allers' career has been shaped by the instruction of various teachers across Canada, including John Kadz, Yuri Hooker, and Brian Yoon. While completing his undergraduate degree at uOttawa, Ethan won the annual concerto competition and performed the Elgar Cello Concerto with the University Orchestra. He has had the pleasure of performing at the NAC's Fourth Stage uOttawa concert series with various chamber groups and as a solo artist.

Under the tutelage of Paul Marleyn, Ethan completed his Master's of Music at the University of Ottawa and is currently a doctoral student at Western University studying with Tom Wiebe.
Watch
Ethan Allers and Tom Wiebe share insights on the audition process. (2m50s, 128M)

Music credit: Prelude from Cello Suite No. 6 in D major, BWV 1012, Bach, Johann Sebastian. Excerpts performed by Ethan Allers, 2020
Related links