Class of 2022: Vocal performer Tyrese Walters is planning a career in choral conducting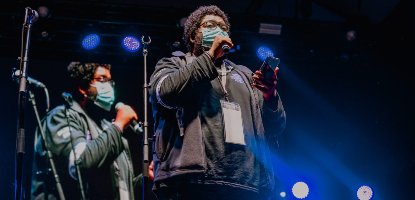 Tyrese Walters, BMus'22, has a soft spot for musical theatre. And alt-rock and indy music. Marching bands, too.
But during his four years at Western, he discovered his heart is in directing choirs.
"It's a rewarding experience to sing in a choir: when you balance that chord perfectly or you get that cut-off exactly right or you nail a 'wow' ending. Choir conductors have the opportunity to facilitate that, to make it happen. And when a conductor can help a choir connect with a piece – and then the choir connects that piece with the audience – it's such a great feeling."
Walters graduates this month with a bachelor of music, specializing in choral performance, from the Don Wright Faculty of Music. Approximately 8,000 graduating students will convocate this spring and will join more than 330,000 others as Western alumni from more than 160 countries.
Read full article "Conducting a rewarding student experience" (via Western News, June 7, 2022)