Inaugural High School Performance and Songwriting Competition results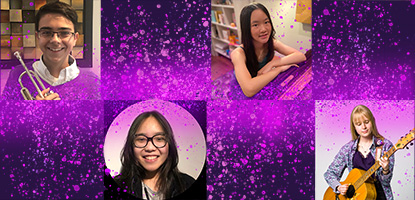 We are proud to announce the winners of our inaugural High School Performance and Songwriting Competition. We had a high number of responses and the calibre of submissions was impressive. Thank you to all who applied, and congratulations to all the winners!

Winners
Voice: Marie Conceicao
Piano: Megan Lo
Strings: Joseph Tsao, violin
Winds, Brass & Percussion: Sam Ferguson, trumpet
Songwriting: Amanda Braam
Composition: Minh Nguyet Pham

Runners up and honourable mentions
We also want to recognize some participants who were runners up and highlight some honourable mentions from our faculty members who evaluated the entries and had some additional comments to make.

For voice, Hannah Cole was a close second and young Colin Spencer from Newfoundland deserves an Honourable Mention. In piano Jarmin Weng was a close second. For the Winds, Brass & Percussion division, Jason Sun on saxophone from Richmond Hill was runner up. For the strings division, Siyeon Ahn was runner up.

Our Music Research Department Chair and professor of composition, Omar Daniel, had the following to say about the entries in the songwriting and composition division:

Songwriting
Amanda Braam's "Why do the good ones go?" shows virtuosity in performance, songwriting, and production. A strikingly original song that creates a strong impact. Honorable mention to Emma Kaluza ("Sleep Deprived") and Sadie MacDonnell ("Brand New Dress"). Both songwriters created unique, technically advanced works, and performed them very impressively.

Composition
Minh Nguyet Pham's "Winter Dance" shows advanced skills in harmony, rhythm, and melodic development. It creates a strong impression with clarity of purpose and effective orchestration. Honorable mentions go to Tanya Poloushina ("Sunrise"), an adventurous, ambitious piece that shows considerable promise, and Tristian Wong ("The Picnic") for the expressive complexity of musical ideas.

Thank you again to all the participants who submitted entries in this year's competition and to the teachers who helped guide the students with their repertoire selections and recordings. We look forward to next year's competition!

Photo: High School Performance and Songwriting Competition Winners (l-r) – Sam Ferguson (trumpet), Minh Nguyet Pham (composition), Megan Lo (piano), and Amanda Braam (songwriting). Not pictured: Marie Conceicao (voice) and Joseph Tsao (violin).