Flute student Gillian Derer earns social media sponsorships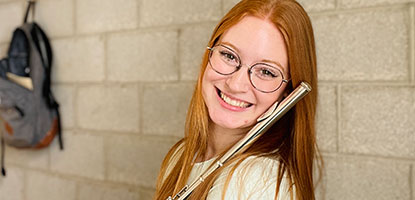 An undergraduate student at Western University's Don Wright Faculty of Music has been offered partnerships with two internationally known music businesses.

Gillian Derer, a fourth year flutist in the BMus (Honours - Performance) program, has recently signed contracts with the Soundbrenner metronome company and the Flute Center of New York.

In 2020, Gillian began an Instagram account devoted to a light hearted and honest look at the life of an emerging classical musician under the brand name GILL FLUTES (@gill.flutes). With followers now in the thousands, Gillian has attracted the attention of many well-known professional flutists as well as students and lovers of classical music from across the world.

Soundbrenner is a company that has created revolutionary wearable metronome devices that allow musicians to feel the pulse by vibration rather than hear the traditional metronome clicking sound. Gillian will demonstrate Soundbrenner's products and share her experiences on Instagram. The Flute Center of New York is the largest seller of new and used flutes in North America. They will be asking Gill to test flute related products online and has invited her to New York City for a live appearance in the future. In turn, Gillian will be able to provide discounts to her followers.

After graduation, Gillian is hoping to obtain a Master's degree in flute performance and continue pursuing her performance career. She is a member of Sharon Kahan's flute studio at Western, and has additionally studied with many well known flutists, including Emmanuel Pahud of the Berlin Philharmonic and Susan Hoeppner of the Glenn Gould School of Music. She looks forward to continuing to build her online presence and "inspiring young musicians around the world!"