Alumni rank in top three of Aeolian Hall's inaugural songwriting contest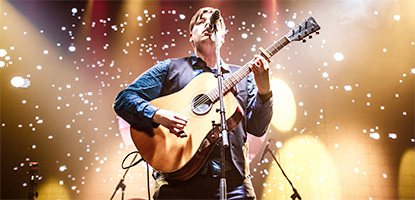 Congratulations to Matt Martin, BMusA'11, BEd'12, and Stephen Ingram, BMus'17, who placed second and third respectively in Aeolian Hall's inaugural songwriting contest.
Celebrating London, Ontario's recent designation as a World Music Heritage City by UNESCO, Aeolian ran the contest to support local songwriters. When it was created by Aeolian Executive & Artistic Director Clark Bryan, BMus'90, MMus'92, he had a vision to celebrate London's designation as a UNESCO City of Music while cultivating London talent and providing tangible opportunities for London singer-songwriters.
As part of the announcement, alumnus Clark Bryan noted, "London should be proud to know that we had 162 submissions to the Aeolian's first annual song writing competition! The judges had a really challenging job with so many high quality submissions! With themes of home, love and London, the contest has cultivated a beautiful and rich repository of songs that I'm sure will make us proud to live in this UNESCO City of Music! We are thrilled to support our winners and help their careers. We are excited to share their craft and celebrate their creativity."
Each song was reviewed by judges Valdy, Andrea Waase, and Tony Dekker of the Great Lake Swimmers. Londoner Tara Dunphy was awarded the Grand Prize for her song "East of Adelaide." Cash prizes, recording and marketing opportunities were also awarded to Matt Martin's for his piece "Maple and Pine" which was awarded second prize and Stephen Ingram's "When I Get Back to London," which placed third. Ingram had two songs on the judges top five.
Second Place
Matt Martin, BMusA'11, BEd'12
"Maple & Pine"
After playing in a metal band in high school, studying classical guitar at Western University and flamenco guitar in Spain, London, Ontario singer-songwriter and guitarist Matthew Martin finally discovered his own artistic voice writing indie folk and Americana inspired songs. His songs are story driven, sparked by the people and places around him and liberally peppered with a rich imagination cultivated as a lifelong bookworm. Matthew currently maintains a busy guitar teaching schedule and is working on releasing a full album with his band Trusty Fox before turning his attention to recording his debut EP as a solo artist.
Third Place
Stephen Ingram, BMus'17
"When I Get Back To London"
Stephen is a singer/songwriter and multi-instrumentalist, as well as a professional theatre-maker. He was born and raised in Hamilton, ON, but having lived in London, ON, for 8 years now, he considers himself a Londoner at heart. He holds a Bachelor's degree Honours in Composition from the Don Wright Faculty of Music at Western University. As an actor/musician/composer, he has worked professionally with theatres across Ontario, including Theatre Aquarius, the Grand Theatre, the Musical Stage Company, Sudbury Theatre Centre, Upper Canada Playhouse, Victoria Playhouse Petrolia, and a number of others. As a composer, much of his output was musical theatre before the pandemic, but after it hit, he found himself writing more and more for himself. In the last two years since he has written a half dozen folk/pop songs, and looks forward to releasing a chunk of them in an album later this year.
Photo: Matt Martin, BMusA'11, BEd'12, second place winner of the Aeolian Hall Songwriting Contest 2022
---
Related links
Aeolian Hall Song Writing Contest Winners 2022