Celebrating a Decade of Leadership: Betty Anne Younker's term as Dean ends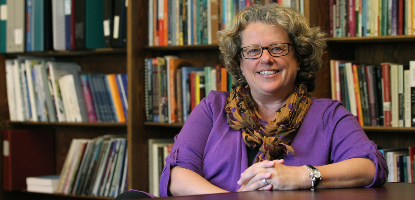 After a decade of strong and passionate leadership, Betty Anne Younker – Western's first female Dean of Music - is completing her final term as Dean on July 31, 2021.
More than 160 colleagues, alumni, friends, and community members gathered online in late June to celebrate Betty Anne and her accomplishments at the Don Wright Faculty of Music over the past decade. Watch event (via YouTube)
The event was hosted by (Acting) Provost and Vice President (Academic) Sarah Prichard. While she has only known Betty Anne for a couple of years, Dr. Prichard noted "I knew from the moment I met her that I liked her. I liked her leadership style; I liked her personal style. She's a warm, intelligent, empathetic, and strong leader."
Professor Ted Baerg spoke on behalf of the faculty and staff in Music. In particular, during 2020-21 when in-person music making continued throughout the pandemic, he noted how safe everyone felt with the stringent measures put in place by the Dean. "The leadership provided by Betty Anne was absolutely nothing short of extraordinary on all levels. Betty Anne never asked us to do anything she wouldn't have done herself – that she did herself."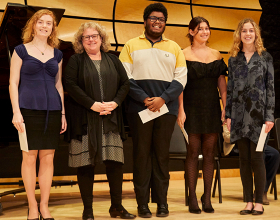 Amber Proulx, BMus'21, outgoing Faculty of Music Students' Council president, spoke on behalf of the students. "I had the wonderful opportunity to work closely with Dr. Younker this year to ensure the best possible student experience, and to ensure student voices were heard. I am very grateful that I was able to work with the Dean who kept the best interests of the students at the forefront of her mind."
Alumni Gwyn (BA'67) and Carol Beynon (BMusA'71) spoke together on behalf of alumni and the community. "She's never forgotten the importance of leading by example and motivation for everyone."
When Betty Anne introduced a new annual homecoming tradition in 2014, which invited all alumni back to rehearse and perform in a band or choir, while conducted by alumni, "there stood Betty Anne herself," noted Gwyn, "shoulder to shoulder amidst all the performers." Hundreds of alumni have now returned for this event and become reacquainted with their alma mater.
The event also included a musical video tribute from Western's New Horizons Band, the community outreach adult band Betty Anne helped bring to Western more than 20 years ago. Several other leaders submitted video and written tributes, including the Music Building's architect John Nicholson, and Mayor Ed Holder. Betty Anne was honoured on the 2021 Mayor's List for "providing Londoners with rich artistic fare, and enhancing the reputation of the city as a centre of high-level artistic endeavours."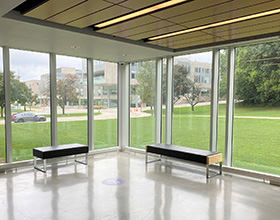 As part of the virtual event, Western leader Jim Weese was on hand in the Music Building to unveil a plaque commemorating the newly named space in Betty Anne's honour. The Betty Anne Younker Community Commons, located in the beautiful, glass-filled lobby of the new Music Building, is a gathering space regularly used by students, faculty, concert attendees and the extended Western and London community. The five-year Music Building construction project involved significant renovations, expansion, and a brand new five-storey build and recital hall which culminated with a spectacular grand opening event on Homecoming weekend in 2018.
Many alumni, colleagues, friends and family donated to Western University to honour Betty Anne's leadership and impact on the music community.
In Betty Anne's own words from the event, "When I think back on the values and work of the Faculty over the last 10 years, the first thought is the continuing felt sense and acknowledging of community, as valued and practiced. This has been a constant theme as articulated by alumni, current students and staff, and faculty members."
Dean Younker is not retiring on July 31, but taking the first academic leave of her career to focus on several research projects and professional commitments before returning in 2022 as a professor in the Music Education Department.
"It's been a romantic notion of mine that I've kept in my head for the last 17 years. I will return as a faculty member… to conclude my career as I started – that is, as a faculty member.
"After 40 years in the profession, nine years of public school music teaching, 31 years at universities as a doctoral student and faculty member, with 17 of those being an administrator, I can honestly say that if I were to start all over again I would make the same decisions."