Celebrating World Voice Day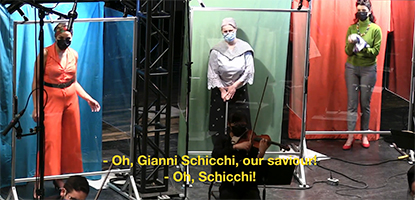 On April 16, we are raising our voices in celebration of World Voice Day.
Throughout this past challenging academic year, our incredible voice students and faculty have persevered, and continued to safely make music together. 
Please enjoy the following selections of opera, choral and solo vocal performances – recorded at varying stages of restrictions during 2020-21 – and join us again on April 30 for the release of Opera at Western's Puccini double-bill productions of Suor Angelica and Gianni Schicchi.
Voice studies at Western: By the numbers
---
Vocal performances 2020-21
Western University Singers choir
"When Dawn Shines" by Western grad Mishaal Surti. Conductor: Mark Ramsay. December 2020.

Voice Studio Recital
Two students from Bethany Hörst's voice studio recital, Sara Ann Birken and Nicole Katerberg, perform Vivaldi. February 2021.

Songs of Many Lands
温凯蓝 Kailan Wen, soprano, with 何嘉禧 Jiaxi He, piano, perform Three Wishes of Roses by Huang Zi, recorded from China for Western's International Week in November 2020. Director: Patricia Green

Così fan tutte excerpt
Opera at Western performed Mozart's comic opera in November 2020. Director: Theodore Baerg; Conductor: Simone Luti

Suor Angelica: Angelica/Principessa Duet
Opera at Western presented a Puccini double-bill in March 2021. Excerpt from March 13 cast. Director: Michael Cavanagh; Conductor: Simone Luti; La Principessa: Camila Montefusco, mezzo-soprano; Angelica: Nicole Katersburg, soprano

Suor Angelica: Finale
March 14 cast. Director: Michael Cavanagh; Conductor: Simone Luti; Angelica: Hannah Nickel, soprano

Gianni Schicchi: Women's Trio
March 13 cast. Director: Michael Cavanagh; Conductor: Simone Luti; Nella: Angela Gjurichanin, soprano; Ciesca: Francesca Alexander: mezzo-soprano; Zita: Leah Arvidsson, mezzo-soprano; Schicchi: Professor Theodore Baerg, baritone

Gianni Schicchi: Quartet, O Mio Babbino Caro
March 14 cast. Director: Michael Cavanagh; Conductor: Simone Luti; Lauretta: Emma Battel, soprano; Schicchi: Professor Theodore Baerg, baritone; Rinuccio: James Smith, tenor; Zita: Leah Arvidsson, mezzo-soprano

Vocal studies at Western by the numbers
Voice students
146 (undergraduate, graduate, and diploma)
Choirs
Four ( Western University Singers, Les Choristes, St. Cecilia Singers, Chorale)
Number of students in choirs
150+ (including both music and non-music majors at Western)
Typical number of choral performances annually
At least four performance opportunities for each choir, across six combined choral events, including two choral celebration events featuring all choirs
Number of students in Opera at Western
63
Opera productions per year
Three (including two fully staged with orchestra)
Average number of hours for all voice lessons per week
165
Solo credit or performance event recitals in voice planned this year
67