Celebrating World Choral Day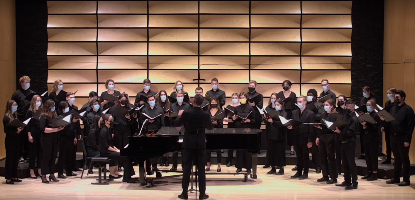 On Sunday, December 12, 2021 we are excited to be joining forces with choral colleagues from around the world to celebrate World Choral Day!
Being a member of a choir or singing group helps us to build our musicianship skills and vocal abilities, but it also allows us the opportunity to learn more about those we make music with, those who create music for us to sing, and those who are represented by the music we explore. In short, it makes us better citizens of this beautiful and complex world we live in.
Here at the Don Wright Faculty of Music we are pleased to offer a choral program that includes four different choirs, a student-led choir council and ensemble, undergraduate courses in choral methods and leadership, and a graduate choral conducting program for both masters and doctoral level students.
Thank you to all the groups around the world who are sharing performances today. We are thrilled to be a member of this choral community.

Cheers,
Mark Ramsay, DMA
Assistant Professor of Music Education and Coordinator of Choral Activities 
---
Western's four choirs – Western University Singers, Les Choristes, St. Cecilia Singers, Chorale – at the Don Wright Faculty of Music rehearse for four hours each week during the fall and winter terms. Each choir typically presents four public concerts per year, including a combined choral celebration finale to close the academic year.

In lieu of in-person audiences, the choirs' first performances of 2021-22 were recorded in October. We are pleased to share a selection of highlights in celebration of World Choral Day, and look forward to sharing a full virtual concert in the new year.
St. Cecilia Singers
Psalm 23 (Srul Irving Glick)
Gloria Gassi, conductor
Debbie Grigg, pianist

Chorale
Slumber On (Christopher Harris)
Patrick Murray, conductor
Jiazhi Sun, pianist
Starts at 4:02

Les Choristes
Refugee (Moira Smiley)
Janet Loo, conductor
Soloist Briana Sutherland
Percussion Meagan Foster
Starts at 8:21

Western University Singers
Love partakes of the soul itself (Shane Raman)
Mark Ramsay, conductor
Laura Altenmueller, pianist
Starts at 11:31
All recorded in von Kuster Hall, Music Building, Western University in October 2021
---
Related links
Celebrating World Voice Day - April 2021
Student Ensembles at the Don Wright Faculty of Music
Music Performance Studies Department - Voice Division
Dr. Tracy Wong named Assistant Professor of Choral Studies - October 2021