Dr. Tracy Wong named Assistant Professor of Choral Studies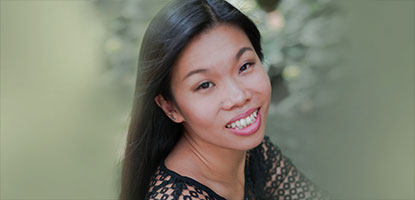 The Dean's Office at the Don Wright Faculty of Music is pleased to announce Dr. Tracy Wong has been named Assistant Professor of Choral Studies for a three-year term effective January 1, 2022.

Currently Assistant Professor and Choral Director at McMaster University where she earned a teaching excellence award, Dr. Wong has taught a wide range of music performance, research, and music education courses, as well as overseeing student honors projects. In addition to recent international work at the 24th International Kodály (Malaysia), the Toronto International Choral Festival, and the Voice & Movement Multicultural Choral Music Workshop & Festival in Portugal, she maintains an impressively broad profile of choral presentations/workshops, compositions/arrangements, scholarly publications/presentations, and recordings.

Dr. Wong's strong commitment to community choral organizations is reflected in her work as Co-Conductor of the Asia Pacific Youth Choir (International Federation of Choral Music), Conductor of the Grand Philharmonic Youth Choir (Kitchener, Ontario), Guest Artist with the Hamilton Children's Choir, singer with Babεl (Toronto), and founding member of the International Choral Conductors Federation (ICCF). She was the 2019 Canadian Composer Feature for the Canadian Kodály Journal, Alla Breve, and her choral works are featured at numerous reading sessions.
---
Related links