Victoria Meredith and Leslie Higgins honoured with National Choral Awards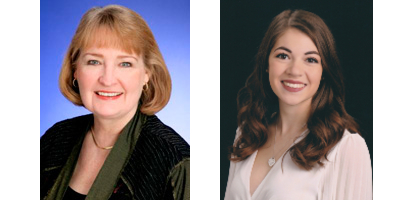 When the 2020 National Choral Award winners were unveiled by CBC on May 17, the announcement was planned to be one of the culminating events at Podium, Canada's biennal four-day conference and festival that brings together members of the choral community. While the conference itself was cancelled due to the COVID-19 pandemic, the award winners were named, and two Western individuals were honoured.
Professor Emerita Victoria Meredith received the Choral Canada Distinguished Service Award, and student Leslie Higgins, BMus (Voice), received the Outstanding Student Essay award with "To Blend or not to Blend: a Solo Singer's Guide to Singing in Choral Ensembles." 
The Choral Canada Distinguished Service Award is given in recognition of long-term service to choral music in Canada. Awards are based on the significance and extent of transformative service in building, nurturing or promoting the Canadian choral community through a primary career in Canada. The individual's contributions may have been made through teaching, conducting, or leadership. For over 40 years, Dr. Meredith has taught at the Don Wright Faculty of Music and mentored countless students, conductors, teachers, and singers in both the education and performance fields. 
"Her mentorship was deeply felt by those who studied conducting with her and sang in the award-winning Western University Singers and Les Choristes under her tutelage," notes Dean Betty Anne Younker. "Building and sustaining the choral tradition at Western resulted in a nationally recognized choral program with a deep emphasis on pedagogy and musicianship through choral singing. Graduates of the program continue the tradition nationally and internationally, whose choirs continue to be recognized at multiple levels. Dr. Meredith's work extended beyond the campus into communities across North America through adjudicating, teaching, conducting, and serving as a juror. Her publications have made an impact on the choral world and reflect her stature as a thought leader."
The Choral Canada Outstanding Student Essay Award recognizes an undergraduate or graduate student essay devoted to some aspect of choral music. Awards are based on both the content of the paper and the writing style. Undergraduate student Leslie Higgins, who will be graduating next month with a BMus Honours degree in Voice Performance, also served as a VP on the Choir Council last year. In her first year at Western, she performed with the St. Cecilia Singers choir led by Gloria Gassi. She went on to sing with the Western University Singers choir, most recently led by Patrick Murray and Kathleen Allen, in addition to performing in Western's opera program. Her essay "To Blend or not to Blend: a Solo Singer's Guide to Singing in Choral Ensembles" was originally written for Torin Chile's Vocal Pedagogy class. Leslie will continue her vocal studies at the University of Toronto in the fall to pursue a Master's degree in Vocal Performance. 
From Dean Younker, "This award reflects the strong academic component students experience while studying in the Don Wright Faculty of Music, in addition to deep and thoughtful opportunities to flourish musically and pedagogically. Leslie's commitment to her creative scholarly work as reflected in performance and the written word is recognized and we are indeed proud of her work and to recognize her as one our 'ours!'"
The awards represent a bright silver lining after Podium 2020 had to be cancelled this year. Every two years, Canada's choral conference and festival is co-presented by Choral Canada and one of Canada's provincial choral organizations. Podium was planned take place in Montreal for the first time in its history in collaboration with the Alliance chorale du Québec. The Western University Singers were invited to sing at the conference and had planned a tour to coincide with the conference, planned to be entitled "This Fragile Web: A North American Mosaic." 
About the National Choral Awards
The National Choral Awards program was established in 1988 to honour outstanding contributions to Canadian choral music. The awards are presented publicly every two years. Winners are selected by a panel of choral experts appointed by Choral Canada; there is a new roster of people serving on the award jury panel for each competition.
Related Links
Music professor, student take top national honours - article via Western News (May 26, 2020)
2020 National Choral Awards Announcement - CBC 
Biography - Victoria Meredith, professor emerita
Download essay: "To Blend or not to Blend: a Solo Singer's Guide to Singing in Choral Ensembles" (PDF - shared with permission, courtesy of Leslie Higgins)
National Choral Awards - Choral Canada 
Podium 2020 conference 
Choirs at Western