Musicians' health measures 'new for everybody'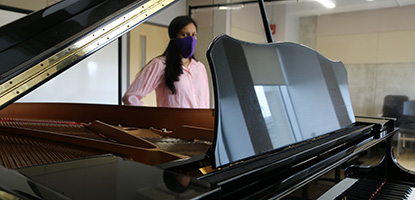 (Photo: Deb Van Brenk/Western News)
Soprano Adriana Orozco Burbano slowly, gradually, carefully, warms up her voice for an hour and then eases into her repertoire.
This day, she leads with 'Como scoglio' from Mozart's Così fan Tutte opera. Her voice powers through the aria's daunting range and dances along its challenging vocal decoration.
This is uncharted territory for the Master's student from Colombia – not because the music is unfamiliar, but because it's the first time she has sung with a facemask and behind a transparent, protective room screen.
"This is new for us, new for everybody," Orozco Burbano said. "But many singers around the world use a mask for singing now. This virus has changed our lives and changed our way to study, especially as musicians, but we have to be safe."
Read full article (via Western News, August 28, 2020)
Related links