Musical meet up in Lucca, Italy for Western's AEDO and London's Amabile Choir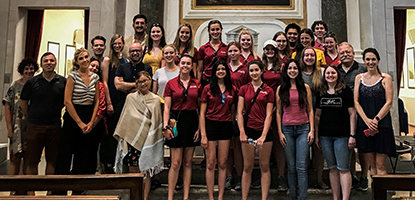 It was luck, a sibling connection and a shared love of singing that led to a musical European encounter 7,000 kilometres away for two prominent London, Ontario groups.

Western's Accademia Europea Dell'Opera (AEDO) opera intensive program and members of the Amabile Young Women's Touring Choir met up in Lucca, Italy on July 12 thanks to current Western Music student and AEDO participant Robert Hutson, tenor.
Robert was a member of Amabile for 13 years while growing up in London, Ontario, and his sister is currently a member of the Amabile Youth Singers (AYS). A portion of the group (ages 13-18) - about 33 singers - was on tour in Italy and were sightseeing in Lucca for the day. A small group of the Touring Choir connected to visit the AEDO students and faculty in rehearsal.
The AYS gave a stunning rendition of Regina Coeli for the AEDO group in the chapel used by AEDO for some rehearsals, and then AYS - along with a few chaperones - sat in on part of a staging rehearsal of AEDO's La Finta Giardiniera. The young Amabile singers had the opportunity to hear from AEDO's Artistic and Musical Director Simone Luti, and Mariano Furlani, the Stage Director at AEDO, who took time to explain the scene and opera and the rehearsal activities. The singers then watched a portion of the rehearsal and talked with AEDO's General Director Sophie Roland, Chair, Music Performance Studies at Western, and Simone Luti before continuing their tour of Lucca.
AEDO is in residence in Lucca, Italy from July 1 to August 11. It was created in collaboration with Centro Studi Opera Omnia Luigi Boccherini and is centered on the preparation, creation, and performance of full operatic roles. The program brings together selected singers from around the globe to work with pianists, conductors, and directors from some of the world's most celebrated opera institutions, during an intense period of musical and dramaturgic study and rehearsal, followed by a series of public European performances.

Many thanks Western alumna Brenda Zadorsky, BMus'74, co-founder and Artistic Director of Amabile Youth Singers and Prima: Amabile Women's Choir for joining AEDO in Lucca!
Related links
Amabile Young Women's Touring Choir - Italy 2019 recap and photos
Photos: Kelly Bylica