Mark Sirett and Gloria Gassi honoured by Choral Canada for Canada 150 Commission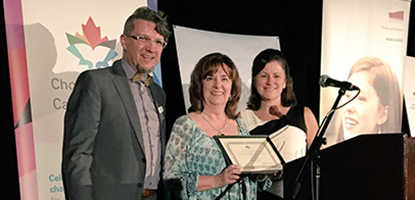 Congratulations to Mark Sirett on winning the Outstanding Choral Composition award at the Choral Canada 2018 National Choral Awards for his work: Words, Stories, Truth, A Trilogy in honour of Canada's Indigenous Peoples.
The three movement work was commissioned by Gloria Gassi, Voice faculty, conductor of St. Cecilia Singers and alumna with the assistance of Western's Canada 150 fund. Inspired by the events surrounding the efforts of Justice Murray Sinclair in the Truth and Reconciliation Commission of Canada, Ms. Gassi's aim was to highlight the themes of forgiveness and healing so that the "truth of our common experiences will set our spirits free." (TRC mandate.) 

The composition was to be scored for double choir SSAA/SATB to include all choirs of the Don Wright Faculty of Music. It was accompanied by piano and instrumental ensemble and will be published by Cypress Music. The students of Chorale, Les Choristes, St. Cecilia Singers and Western University Singers, were honoured to sing the premiere under Mark Sirett's direction for the Fall Choral Celebration, Oct. 27, 2017, as part of Western University's Canada 150 celebrations.
The Choral Canada Award for Outstanding Choral Composition recognizes an original composition that provides a valuable new addition to the Canadian choral composition canon. Awards are based not only on the overall quality of writing, but also on the text setting, and suitability and accessibility for the indicated ensemble type. Attention is also given to the quality of presentation.
Conductor, composer, educator, pianist and organist, Mark Sirett (b. 1952) is the founding Artistic Director of the award-winning Cantabile Choirs of Kingston, Ontario. He is a native of Kingston and holds both masters and doctoral degrees in choral conducting and pedagogy from the University of Iowa. His composition, The Stars Point the Way, was honoured as Outstanding Choral Composition 2010 by Choral Canada. He is frequently in demand as a guest conductor and clinician throughout the country.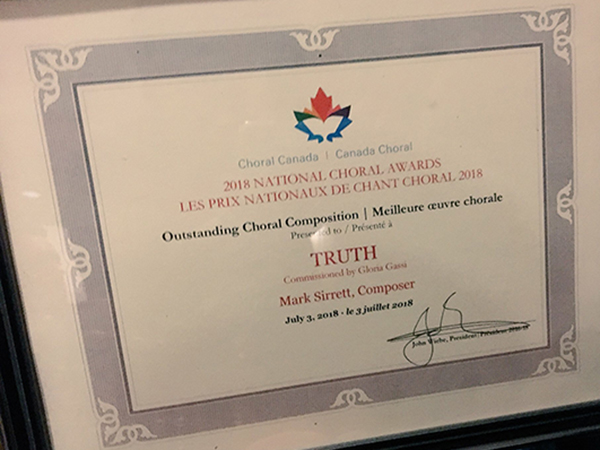 Lyricist Vera Wabegijig was honoured to be at the premiere of Words, Stories, Truth, and was invited to read the text before the performance. This is the first time that Vera's lyrics have been set to music. Vera is a Nishnaabe (Odawa & Ojibwe) poet, blogger and mother living in Nepean, Ontario. Wild Rice Dreams (BookLand Press, Toronto, ON. 2013) is her first collection of poetry. Her writing has been printed in many anthologies including Yellow Medicine Review, XXX NDN, and Breaking the Surface. Ottawa International Writers Festival, AB Series, Canadian Spoken Word Festival, Talking Stick Festival, Banff Centre for the Arts, VerseFest, and Voices of Venus are just a few of the venues where she's shared her poetry.
Congratulations to Mark Sirett and Gloria Gassi on your well-deserved Choral Canada honour!
Photos Above: Janet Loo
(Pictured above: Dr. John Wiebe, Gloria Gassi, Dr. Marta McCarthy)
Related Links:
Choral Canada: National Choral Awards

Gloria Gassi: Biography
Chorale, Les Choristes, St. Cecilia Singers and Western University Singers
Choral Celebration: Celebrating Canada 150 - photos (Flickr)
---
Photos below: Dave Chidley