Gloria Gassi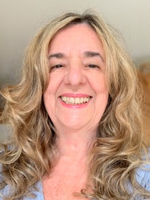 Lecturer
Voice - Soprano
Ensemble Director - St. Cecilia Singers
Office: MB 545
Phone: (519) 661-2111 x84346
Email: ggassi@uwo.ca
With a passion for both performing and teaching, Ms. Gassi maintains a vibrant, thriving studio, where the natural gift of each unique voice is honoured, nurtured and developed with a strong foundational technique and sensitive artistry. Her students, from both Toronto and London, have won national awards, attained university degrees in Voice Performance and Education, and are working professionally in the movie industry, opera, choral singing, conducting, education, musical theatre, television, radio and Liturgical music.
Described as "vocally outstanding, with an empathy for the spirit of the song, (Messiah, Handel), Ms. Gassi's lyric soprano voice is defined as "dramatically captivating, with beautiful tone and a prowess for ringing high notes," (Fiordiligi, Mozart's Cosi Fan Tutte). Noted for her authentic performance as the New Prioress, Madame Lidoine, in Poulenc's Dialogues des Carmélites, she is characterized as "a sensitive performer with respect to the profound meaning of the text."
With an equal love of the recital and Oratorio repertoire, Ms. Gassi's performances in Canada and abroad include Bach's St. John Passion, Bach's Jauchzet Gott in allen Landen, Brahms' Requiem, Handel's Messiah, Handel's Saul, Haydn's Lord Nelson Mass, Haydn's Missa Brevis, Honegger's King David, Pergolesi's Stabat Mater, Purcell's Ode to St. Cecilia, Schubert's Mass in G, Rutter's Magnificat, Vaughan Williams' Mass in G and Serenade to Spring.
Ms. Gassi sang as soloist and in ensemble with the acclaimed Elmer Iseler Singers, performing in Canada, U.S.A., Germany and Asia. She was honoured to sing under Dr. Elmer Iseler and guest conductors, Helmut Rilling, Sir David Willcocks, Andrew Davis, Eric Kunzel, Seiji Ozawa.
A seasoned educator, Ms. Gassi's choirs, notably the Cardinal Carter Academy Singers of Toronto (TCDSB), have sung internationally and been described as having "a warm, resonant tone with precise intonation and artistic musical expression." As Associate Teacher with OISE, UT and York University from1990-2003, Ms. Gassi has successfully supervised teacher candidates in music education.
She has adjudicated both Voice and Choral at local and provincial festivals in Ontario, Nova Scotia, New Brunswick, Newfoundland and Alberta and has been a guest conductor for the Oxford Church Music summer music program in Oxford, England; Dublin, Ireland; Venice and Florence, Italy.
Ms. Gassi holds a Master of Music with Honours in Voice Performance and Literature, (Western University) a Licentiate and Associateship in Voice Performance, Gold Medal, and an ARCT in piano. She is appointed to the Department of Performance Studies, where she teaches Voice and conducts the St. Cecilia Singers. She is the recipient of several awards, notably the Sir Ernest MacMillan award for conducting (Toronto Mendelssohn Foundation), and Western University Students' Council Award for Excellence in Undergraduate Teaching.
Recordings 
Elmer Iseler Singers, First soprano
Laudate Dominum, 1987 Elmer Iseler, conductor;
Messiah, Handel, 1987 Sir Andrew Davis, conductor.
Cardinal Carter Academy Singers, Gloria Gassi, artistic director and conductor
My Soul doth magnify the Lord, 2000;
O Holy Night, A Festival of Lessons and Carols, 2001;
Eternal Light, A Celebration of Evensong, 2003.
Publications
Psalms: Sundays and Solemnities, CCCB publications Concacan Inc.
National committee for Music for Catholic Worship to be published in 2021
Memberships, Service
NATS – current District Governor for Ontario region
Choirs Ontario – Southwestern Regional Chair 2014-2018
ACTRA - Movie credits: Murdoch Mysteries, Umbrella Academy (Netflix), Grounded for Christmas (Lifetime)
ACDA, ACCC, Voice Care Network