Brazilian professor Iuri Soares keys in on music education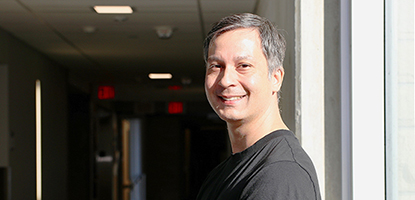 Emerging Leaders in the Americas Program (ELAP) scholarship student Iuri Soares will be at the Don Wright Faculty of Music through June, where he is researching the sociology of music education. ELAP provides students and researchers from Latin America and the Caribbean with short-term exchange opportunities for study or research in Canada.
"I was looking for a place to go abroad to complete and fulfil my PhD studies in Brazil, and I found (Music professor) Ruth Wright, because I'm working in the field of the sociology of music education. At the same time, I found the ELAP program and it was a perfect match," added Soares, who is also a professor of music at Instituto Federal do Rio Grande do Sul.
Supervised by professors Ruth Wright and Patrick Schmidt, Soares will focus on music education in school curricula, from Grade 1-9. He would like more prominence given to music in the classroom, but isn't sure it should garner the same attention as math and science.
"What interests me is why this happens the way it does. What would be the solution if we magically had music all day in school? Would that be a solution? Would music suddenly achieve a higher level of status among other disciplines? I'm not sure," said Soares. "There are different reasons I need to map to discover what counts, and what doesn't, in terms of its status in school curricula."
Read full article (Western News, February 8, 2018)
Photo: Paul Mayne/Western News
Related links:
Emerging Leaders in the Americas Program
Instituto Federal Rio Grande do Sul

Music Education at Western

Meet the Music Education Faculty