Rhiannon Simpson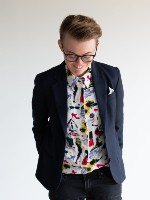 PhD Student
Music Education
Office: TC 124
Email: rsimps49@uwo.ca
Rhiannon Simpson is a musician, educator and PhD student from Ballarat, Australia. As a touring guitarist Rhiannon performed in venues across Australia, Europe and North America including Buddy Guy's (Chicago), Ain't Nothin' But a Blues Bar (London), BB Kings (New Orleans) and the Haskell Opera House (Derby Line). Simpson has also toured playing drum kit for renowned blues band Salty Dog, and singing lead vocals with blues rock outfit The Triple Delta.
Simpson's research interests include popular music education, the sociology of music education, policy studies and social justice oriented practice. She has presented at numerous international conferences including the International Symposium on the Sociology of Music Education (ISSME) and the Association for Popular Music Education (APME). She has twice featured as the keynote plenary speaker at the Victorian Instrumental Teachers Conference, and has delivered numerous professional development workshops to in-service educators considering employing informal music pedagogy. She was the instructor of record for the course 'Understanding Progressive Pedagogies in Popular Music Education' (M4858a) in 2021.
Rhiannon gained a Bachelor of Music, majoring in musicology and ethnomusicology, from the Melbourne Conservatorium of Music. She completed her master's degree in teaching (secondary) at the Melbourne Graduate School of Education in conjunction with Boston College where she served as a graduate research exchange student. She currently holds the John and Eric Smyth Travelling Scholarship and the Ontario Graduate Scholarship. Simpson is currently completing her PhD at Western University, exploring the role teacher habitus and policy play in influencing an educator's decision to employ non-paradigmatic practice. When she should be writing that dissertation Rhiannon can be found watching Australian rules football, attempting to understand hockey, and scouring Canadian supermarkets for Vegemite and Milo.