Jeffrey Komar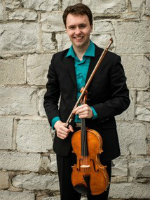 DMA Candidate
Performance - Viola
Office: TC 330
Email: jkomar2@uwo.ca
With his background in the life sciences, Jeffrey Komar is not your typical classical performer. After completing a degree in Biochemistry and Molecular Biology, he switched gears to pursue a career as a violist. Jeffrey holds both Bachelor's and Master's degrees in music. He has studied with Philippe Djokic at the Fountain School of Performing Arts of Dalhousie University and with Sharon Wei at the Don Wright Faculty of Music of Western University. Currently, he is pursuing a Doctor of Musical Arts (DMA) in Viola Performance at Western. His research examines the various roles that performers play in the creation and dissemination of contemporary musical works.
Jeffrey has been a young artist in music festivals across Canada, including the Domaine Forget International Music Festival (St. Irenée, QC), the Tuckamore Festival (St. John's, NL) and the Scotia Festival of Music (Halifax, NS). Since beginning his graduate studies at Western, he has performed several times in the Don Wright Faculty of Music Concert Series, sharing the stage with such esteemed faculty as Sharon Wei, Scott St. John, Mel Martin, Joe Lanza, and Thomas Wiebe. Jeffrey is a founding member of London-based chamber music groups Trio Moyen and Quartet Di Altezza. He is also a 2019 roster musician with Magisterra Soloists, with whom he has toured nationally and internationally.
Jeffrey is a dedicated music educator, too. From 2011-2015, he worked as the Upper-Strings Faculty Member of the Halifax Music Co-op, where he provided one-on-one lessons to co-op members. In January 2016, Jeffrey joined the faculty of El Sistema Aeolian as a teacher/conductor. There he provides free instruction in violin, viola, and junior choir to underprivileged children from London and the surrounding areas. He is also on the faculty of Forest City String School, where he coaches chamber music and senior orchestra. In his spare time, he enjoys drinking coffee, cooking, and listening to podcasts.