Jashen Edwards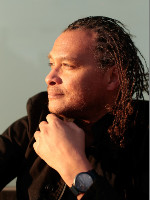 PhD Candidate
Music Education
Office: TC 121
Email: jedwa4@uwo.ca
Jashen is a 4th year PhD student in Music Education. His research centers around students' sonic lifeworlds – sound currents streaming at home, school, on the streets and cyberspace – and examines how sonic encounters may be a conduit and catalyst for creative critical consciousness.
(Re)sounding the music classroom as a dynamic and dialogical acoustic space via creative musicking activities, like group improvisation and collaborative composition, Jashen designs and facilitates sound session workshops for participants to play with sounds encountered and collected, while working to sense and (re)make meanings from them. Recontextualizing and rehearsing sounds may offer opportunities to critically engage with topics relevant to students' lived experiences and open spaces for dialogue about sound as a shaper of personal, social, and political worldviews.
Drawing upon the fields of archaeoacoustics, sound studies, and sensuous scholarship, his work seeks to draw connections between music education and social justice arts education through the phenomena of sound, imagination, and play.
Hoping to encourage local music teachers to integrate such activities in their practice, Jashen co-organized along with Dr. Maud Hickey, Composing in the Classroom: Models & Designs for the Creative Music Teachers – a three-day hands-on workshop/conference for forty-eight music teachers throughout Chicago and Evanston, IL..
Under the direction of Dr. Hickey, he co-facilitated a Garage Band composition program at Cook County Juvenile Detention Center Chicago.
Jashen has worked in a variety of settings including the Bay View Opera House, San Francisco Symphony, Ile Omode School in East Oakland, Hamilton Homeless Shelter for Children and Families, Our Lady of The Visitacion, and The Universität der Künste Berlin.
As a composer, he has written for stage, circus, and concert settings. 
He is the founder/music director of sounds of life ® — a sound session practice.
In 2019, he, along with acclaimed mezzo-soprano Patricia Green, initiated Western's first Sound Hour – a drop-in lunch-time improv lab for university students seeking alternative and creative ways to be musical.
Jashen is a California native who enjoys trail running, road trips, and cooking his grandmother's Mexican recipes for friends.
He is a graduate of the Bienen School of Music at Northwestern University (MA, 2017) and University of California, Berkeley (BA, 2012).