Fiona Evison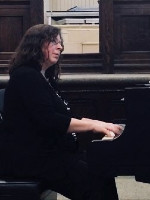 PhD Student
Music Education
Office: TC 124
Email: fevison@uwo.ca
Fiona is in her second year of the Music Education PhD program. She was born into a musical Scottish family who immigrated to Canada when she was a child. Music has always played an important part of her life, and she has directed and accompanied ensembles of all ages, and performed on piano, voice, flute, organ, handbells, and percussion. As a composer, she believes her creativity should be used to enable community music making. Fiona enjoys composing meaningful pieces that incorporate local musicians, then performing with them.
Her research interests include community music education, adult education, intergenerational musicking, and working with non-auditioned community ensembles and soloists. Her 2019 research into the role of the composer in community music was an international project that highlighted the unique and special place for composers in this field. She has a forthcoming chapter in the Oxford Handbook of Community Singing on this research. Current inquiries involve the impact of COVID-19 on community music leaders and participants. Fiona has presented on this topic internationally and writes about it a forthcoming chapter in the Oxford Handbook of Care in Music Education. She is a research assistant in research investigating language shifts in music education, and an international project on activist community musicians.
Fiona holds a Master of Arts in Community Music (Wilfrid Laurier University), and a Bachelor of Church Music (Heritage College). She is a member of the Royal Canadian College of Organists and the Music Director at Central Westside United Church. In her community, she volunteers with the Summer Music Festival in Leith, Ontario and belongs to the Friends of Historic Leith Church. She is also on the board of the Association of Canadian Women Composers, and is Editor for the ACWC Journal. Additionally, she serves on the Health and Safety Committee of the Teaching Assistants' and Postdoctoral Associates' Union at Western University.