Fiona Evison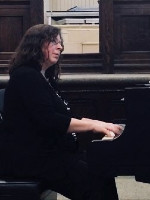 PhD Student
Music Education
Office: TC 124
Email: fevison@uwo.ca
Fiona is in her third year of the Music Education PhD program. She was born into a musical Scottish family who immigrated to Canada when she was a child. Music has always played an important part of her life, and she has directed and accompanied ensembles of all ages, and performed on piano, voice, flute, organ, handbells, and percussion. As a composer, she believes her creativity should be used to enable community music making. Fiona enjoys composing meaningful pieces that engage local musicians, then performing with them. Her research interests include community music education, lifelong learning, intergenerational musicking, and working with non-auditioned community ensembles and soloists.
Fiona was on the editorial team for Community Music Beyond the Boundaries (WLU Press) and her 2019 research into the role of the composer in community music was an international project that highlighted the unique place for composers in this field. She has a forthcoming chapter in the Oxford Handbook of Community Singing on this research, as well as related publications in the ICCM Transform Journal (on positionality), the Canadian Music Educator (on composer dispositions), and a chapter in the forthcoming The Responsibilities of Performing Arts in Tertiary Education (Routledge, on composition pedagogy in higher education). Current inquiries involve the impact of COVID-19 on community music leaders and participants. Fiona has presented papers and been interviewed on this topic internationally, and writes about it a forthcoming chapter in the Oxford Handbook of Care in Music Education. She is also a research assistant in a project examining COVID-19 restrictions' affect on arts teacher education, and is preparing for her doctoral research on her theory of relational composition applied to the context of a community choir's recovery from a pandemic shutdown.
Fiona holds a Master of Arts in Community Music (Wilfrid Laurier University), and a Bachelor of Church Music (Heritage College). As an active community musician, she is a member of the Royal Canadian College of Organists, serving on the Grey Bruce RCCO executive, is Music Director at Central Westside United Church, and an accompanist and/or conductor for three community choirs. Fiona is also on the board of the Association of Canadian Women Composers, and is Editor for the ACWC Journal. Additionally, she has served on Western's Faculty of Music Strategic Planning Subcommittee, the Society of Graduate Students Executive as Music Lunchtime Research Forum Coordinator, the International Association for the Study of Popular Music (Canada) 2021 and National Coalition for Music Education Symposium 2022 conference teams. She currently holds positions on the Western University Taskforce on Academic Integrity, is the Faculty of Music Graduate Student Representative for the Western University Graduate Education Council, and is Secretary for the Health and Safety Committee of the Teaching Assistants' and Postdoctoral Associates' Union.
Fiona is a recipient of the MayDay Group 2022 Early Careers Bursary, the Pratt Green Trust Bursary, and the 2022 First Place winner of the Canadian Music Educators' Association Dr. Frankin Churchley Graduate Essay Competition.