Elisabeth Roberts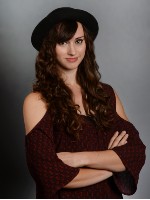 PhD Student
Musicology
Office: TC 436
Email: erober69@uwo.ca
Originally from upstate New York, Libby is a PhD student in musicology with a collaborative specialization in music cognition. She is a multi-disciplinary scholar, holding degrees in both musicology and composition, as well as over 10 years of professional experience as a solo and collaborative pianist.
Libby's research is centered on the intersections of psychology and the experiences of listening to and composing music. Her 2020 master's thesis focused on contemporaneous trends in psychology and how emerging philosophies of the mind and self may have influenced the compositional processes of distinct composers in the 20th century. She has actively participated in empirical research since 2019 and is currently working as a research assistant for Dr. Jonathan De Souza on two music cognition studies concerning statistical and auditory-motor learning.
Comfortable in a variety of scholastic enviroments, Libby was named the inaugaral staff research assistant for the Budds Center for American Music Studies at the University of Missouri (2019) and subsquently its interim director (2020), completing two publications on behalf of one of her mentors, Dr. Michael J. Budds. Additionally, she has been a guest lecturer at the University of Missouri ("Music as a Behavior," 2020) and for two courses in the OSHER continuing education program (2021). She has served as both private and classroom music instructor to children and adult students in Jackson, Mississippi.
As a composer and performer, Libby enjoys a developed history with interdisciplinary work, having collaborated on music for dance, performance art, and interactive audience experiences. Most recently she curated a multimedia concert featuring exercise-based musical experiences. She has written commissions for voice, chamber, and instrumental solo artists as well as completed orchestral works premiered by the Mississippi Symphony Orchestra (2012-2013) and the St. Louis Symphony Orchestra (2019).
Libby has earned a BA (emphasis music composition) from Belhaven University, an MM from The University of Missouri, and an MA from the University of Missouri.
Personal Website: www.libbyrobertsmusic.com