Andrew Noseworthy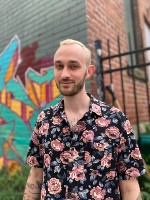 PhD Candidate
Composition
Email: anosewo3@uwo.ca
Andrew Noseworthy (he/him/his) is a multidisciplinary artist whose music reflects upon the acceptance/rejection of "locality" while drawing from lived experiences of isolation within his hometown of Labrador West and the tight-knit arts community of St John's (Newfoundland and Labrador, Canada), along with the expansive post-genre scenes of New York City. His work addresses ideas of post-regional spaces and questions of accessibility for the musical voices within them.
Andrew's creative work coalesces wide-ranging styles and distinct artistic practices. His genre-fluid projects include compositions for contemporary music ensembles (often with electronics); performing with hardcore and experimental rock bands in DIY venues; commissioning and premiering new works involving the electric guitar; music for dance and experimental film; pop music production and audio engineering; and integrative work that combines seemingly disparate elements from any number of these settings. His artistic intentions are focused on building sustainable relationships through communal collaboration. Recent collaborators include The Metropolis Ensemble, The 21C Guitar Conference, Angie Moon Dance Theatre, Saman Shahi, India Gailey, Yang Chen, Tim Brady/Bradyworks, Phong Tran, Adam Cuthbért, SlowPitchSound, Greg Bruce, The St John's International Sound Symposium, Bekah Simms, Tanea Hynes and Andrea Lodge. He is a member of the post-genre duo laydøwn (with Yaz Lancaster) and the Toronto-based ensemble Contaqt. With Aeryn Santillan, he is a co-founder of the experimental hardcore duo this place is actually the worst and independent digital label people | places | records.
Andrew is currently a PhD in Music Composition candidate at Western University under the tutelage of Paul Frehner. His dissertation work involves the creation of a new electric guitar concerto with modular performance settings, while his research examines the transference of experiences between composer-performer roles and genre concerns regarding the electric guitar in contemporary music. His previous mentors include Michael Gordon, Andrew Staniland and Sylvie Proulx.
His music can be heard at: 
https://anmusiccomposer.bandcamp.com/ and https://soundcloud.com/anmusiccomposer
Website: http://anmusiccomposer.com