Pop Music Professors Publish Monographs
Pop Music Professors Publish Monographs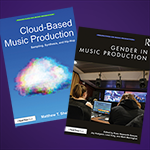 Matthew Shelvock is currently teaching Music and Gaming in the Don Wright Faculty of Music, after completing a PhD in the faculty in 2017. He is the Business Affairs Manager at record label Chillhop.

Shelvock published his first book this year, titled Cloud-Based Music Production: Samples, Synthesis, and Hip-Hop (Taylor and Francis). The book explores cloud-based music-making procedures and the musical competencies required to make hip-hop beats. Shelvock explains the process of creating hip-hop beats from start to finish and examines the psychoacoustic and perceptual impact of the music producer's choices.

Jay Hodgson's latest book, co-edited with Russ Hepworth-Sawyer, Liesl King, and Mark Marrington, is titled Gender in Music Production (Routledge). This, Hodgson's eleventh book, examines the world of music production, which is typically considered male-dominated. It analyzes the situation of gender within the wider context of music production and proposes potential directions for the future of the field.
Related Links