Patrick Schmidt edits MEJ Special Issue
Patrick Schmidt edits MEJ Special Issue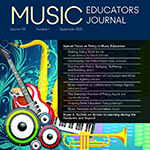 Music Education professor Patrick Schmidt guest edited a recent special issue of the Music Educators Journal – a publication which is distributed to the National Association for Music Education's near 90,000 members.

The special issue is titled Policy and Music Education. As well as editing it, Schmidt also contributed an article of his own, titled "Making Policy Work for Us: Changing the Way Music Educators Look at Policy." Other leading Music Education scholars with pieces in this special issue include: Ryan Shaw, Michigan State; Eric Shieh, Metropolitan School NYC; Janet Barrett, University of Illinois; Lauren Richerme, Indiana University & Carla Aguilar, Metropolitan State Denver; Carlos Abril, Miami University & Brent Gault, Indiana University; and Daniel Hellman, Missouri State. The special issue also included a response by Brian Nichols from Penn State.

The journal can be accessed for free online by those with Western credentials through the online library catalogue.
Related Links