Kathleen McLean curates exhibit: the Toulouse-Philidor Collection
Kathleen McLean curates exhibit: the Toulouse-Philidor Collection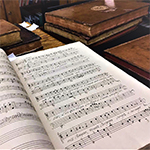 Kathleen McLean of the Music Library at Western University recently curated an exhibit featuring her research on the Toulouse-Philidor Collection, a set of rare manuscripts and first editions from the Music Library Special Collections. With ties to the music library at Versailles, the Toulouse-Philidor Collection comprises musical scores copied or printed in France between 1682 and 1750. Using a 'multi-sited' perspective inspired by anthropologist George Marcus, McLean traced the 'life history' of the collection from origin to its current location at Western. In producing the exhibit, she hopes to showcase the unique collections of Western Libraries to staff, students, and the local community, as well as to make the scores more accessible by situating them within a wider social and political context. She aims to inject the human element back into the collection and demonstrate that the volumes are not static entities but dynamic, storied objects with 'social lives'.
McLean is a full-time employee of the Music Library, principally responsible for the operation of the Choral, Band, Orchestral Collection. She has a MA Archaeology (Museum and Artefact Studies) and a BA (Hons) French and Anthropology.
The exhibit, titled "From Library of Kings to Western University: The Extraordinary Journey of the Toulouse-Philidor Collection", is in Weldon Library during the month of January. If you would like further information, please contact Kathleen McLean or the Music Library.
Photos