John Hess and Dáirine Ní Mheadhra launch new Irish art song website
John Hess and Dáirine Ní Mheadhra launch new Irish art song website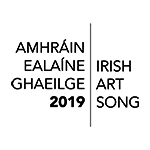 Collaborative Piano professor John Hess, along with a team of research collaborators, has launched the Irish Language Art Song website. The site showcases 50 new art songs they recently commissioned, all of which feature texts in the Irish language (Gaelic). Dr. Hess and Dáirine Ní Mheadhra together applied for and won a grant from the Irish Arts Council worth 149,000 Euros to commission the new songs from Irish and international composers. They have built a website to house both recordings and scores of these 50 songs, which provides all the necessary support needed to sing them without any background in Gaelic. This web site was launched on October 17, 2019--the culmination of several years of work.

The website describes the three goals of the project as follows: "to enliven the interaction between classical composers and Irish language poets, to make a significant contribution to the canon of Irish language art song, and to provide the resources to allow singers in Ireland and throughout the world the opportunity to sing art song in the Irish language."

All fifty songs will receive their first live performances over three concerts at the National Concert Hall in Dublin in the Spring of 2020.
Related Links