Three music profs interviewed for Radio Western's PBnJ segment
Three music profs interviewed for Radio Western's PBnJ segment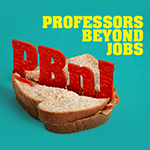 Professors Kate Helsen, Patrick Schmidt, and Emily Abrams Ansari have all been recently interviewed for the snappy, 5-minute "Professors Beyond Jobs" (PBnJ) Radio Western segment.

These fun, engaging interviews each give a sense of the professors' research and their life and interests beyond their job.

The three interviews, as well as other PBnJ interviews, are available at https://soundcloud.com/chrwradio/sets/pbnj-professors-beyond-jobs.
Related Links