Don Wright Faculty of Music mourns the loss of Paul Green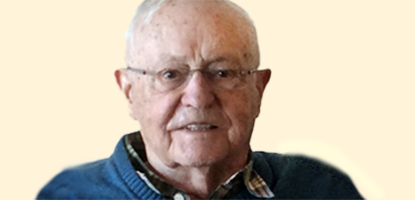 It is with deep sadness that we share the recent passing of Professor Emeritus Dr. Paul Green on May 16, 2023 at the age of 94.
Dr. Green, a distinguished conductor, arranger, and educator, was born in Sydney, Nova Scotia and earned his ARCT in euphonium. He subsequently received his BMus (Toronto), MMus (Eastman), and PhD (Eastman). Following graduation from the University of Toronto, he was head of the music department and conductor of the concert band from 1955-1965 at T. L. Kennedy Secondary School in Mississauga, ON and served as conductor of the Salvation Army's Dovercourt Citadel Band in Toronto. From 1964-1966 he taught at the Ontario Ministry of Education's Summer School of Music.
In 1965, Dr. Green joined the Faculty of Music (Music Education) at Western and had a long and successful career impacting the education of many students who went on to experience successful careers as music educators. While a member of the Music Education department Dr. Green served as chair from 1969 to 1979, conducted the university's Symphonic band, its Faculty of Music Brass Choir, and taught brass and woodwind technique classes, conducting, and graduate courses in music psychology and the philosophy of music education.
His work within the profession included writing a seminal book with Dr. Nancy Vogan (Mt. Allison University) on the history of Canadian music education, serving as president of OMEA (Ontario Music Educators Association), chair of the 1963-1965 Instrumental Music Curriculum Revision Committee, and adjudicating at many competition festivals.
Please join us in offering our deepest condolences and sympathies to Dr. Green's family, friends, and colleagues – and celebrating his considerable legacy of achievement and dedication to Western and countless music educators.
A memorial service is planned for October in Toronto.
Read obituary (via Ward Funeral Homes)