Announcing winners of 2022-23 High School Competition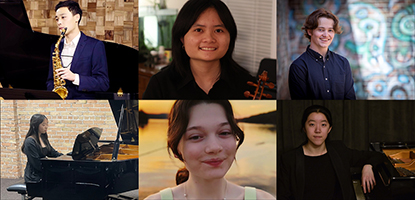 Congratulations to the following six winners of the second annual High School Performance, Composition & Songwriting Competition.
Sincere thanks to all those who entered the competition, and to their teachers who encouraged them. It was a privilege for our faculty to review such a wide range of talents from young musicians across Canada.
Winners
Winds, Brass and Percussion (WBP): Jason Xu (saxophone)
Strings: Tammy Tran (violin)
Voice: Colin Spencer
Piano: Cherilyn Yan
Songwriting: Grace Winnemore
Composition: Irene Huang
 
Several divisions noted additional feedback about students in their area as follows:
The Voice Division met to review the entries and noted "a truly preeminent winner in young Colin Spencer" from Newfoundland. Colin also participated in the WBP (Trumpet) and Piano categories. Runner up: Alyssa Grant; Honourable mention: Yuxuan Zhou
 
Piano Division: Runner up: Jordan Dyck and Honourable mention: Justin Dulat
 
Composition: Omar Daniel, Chair, Music Research and Composition Department noted winner Irene Huang "showed sophisticated craft, vivid imagination, and excellent understanding of instrumental writing. Assured, fluent style that shows great maturity." There were two honourable mentions: Jason Xu who showed "inventive and bold musical language along with a daring musical form," and Eve Pritchard who demonstrated "intricate and expressive use of multiple voices with a rich harmonic sense."
 
Songwriting: Winner Grace Winnemore "shows considerable expertise and originality as a songwriter, singer, and producer." There were two honorable mentions: Irene (Reenie) Huang, who won the Composition category, demonstrated an "exceptional voice," and "strong songwriting with convincing harmonic language." Clara Smallman "shows maturity and command of production, performing, and songwriting. A nuanced and beautifully subtle approach to songwriting."
Image: top left to right - Jason Xu, Tammy Tran, Colin Spencer; bottom left to right - Cherilyn Yan, Grace Winnemore, Irene Huang (submitted photos)
****
Competition inquiries and follow up can be directed to Competition Coordinator Sasha Gorbasew
agorbase@uwo.ca
.Thinking of applying to Western's Don Wright Faculty of Music? We would love to hear from you! Visit our
Future Students webpages
or contact Sasha to learn more.