Maritsa Brookes Concerto Competition 2022-23 Winners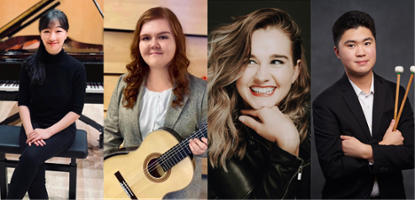 Congratulations to the winners of the 2022-23 Maritsa Brookes Concerto Competition!

The three winners of this year's competition are (pictured left to right):
1st Place: Songlee Kim, Piano, who performed Saint-Saëns' Piano Concerto No. 2 in G minor, Op. 22 (Mvt. Andante sostenuto)
2nd Place: Madeline Hall, Guitar, who performed Ponce's Concierto del Sur (Mvt. Allegretto)
3rd Place: Daryn Nowlin, Voice who performed Bernstein's Symphony No. 1 "Jeremiah" (Mvt. Lamentations)
Runner Up (should a performer not be eligible the following year): William Kim, Percussion, who performed de Sarasate's Zigeunerweisen (transcribed for marimba by W. Kim)

Awarded to any undergraduate or graduate student in the Don Wright Faculty of Music at Western University on the basis of performance excellence demonstrated in a solo concerto competition, this annual competition has been a highlight for many students over the years. This award was made possible through a generous endowed donation by Maritsa Ateena Brookes (BA '57). The winners receive the honour of performing their selection in a public concert with the Western University Symphony Orchestra in the following school year (pending availability). In addition a generous monetary award is shared amongst the winners, received in the fall following the competition.

Sincere thanks to all the students who participated, their professors for helping with preparation, and their collaborative pianists for their ongoing continued support throughout the various rounds. A special thank you also goes to our distinguished jury panel which included this year:

Daniel Warren (Winds, Brass & Percussion)
Liz Upchurch (Voice)
Shoshana Telner (Piano)
Kyoko Kashiwagi (Strings)
View bios
The final round of this year's competition was held on Saturday, January 14 in von Kuster Hall, Music Building.
View all finalists and concert program online.
Related links
Instrument Divisions at the Don Wright Faculty of Music
Performance Competitions at the Don Wright Faculty of Music
Music Performance Studies Department