Class of 2022: Lara Plokhaar and her service dog complete campus career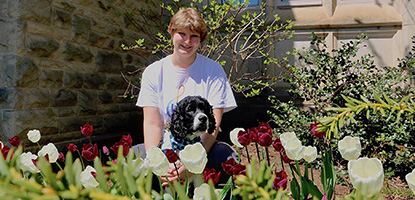 Lara Plokhaar's journey through university has taken a more circuitous path than she'd originally planned or hoped.
But what has remained constant throughout the past five years has been her intent to cross the stage at Convocation with Grainger at her side. 
"From the first second I started at Western, I thought, he will be graduating with me, and he'll be wearing a mini graduation cap and it will be great. I think that's what kept me going some days," Plokhaar said.
The dream will become reality on June 20, as Plokhaar is set to receive her BA with a specialization in music. And Grainger, the service dog she credits with helping her smooth out the roughest patches of university, will cross the stage at the same time.
Read full article (via Western News June 8, 2022)
Photo: Lara Plokhaar and her support dog Grainger will cross the convocation stage together in June. (Debora Van Brenk, Western Communications)