Voice alumnae, students study and perform in Italian summer opera program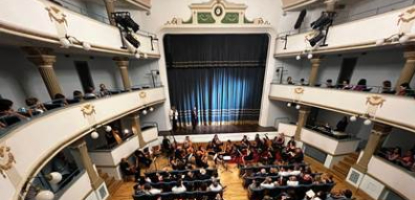 Two alumnae Simmie Patoka, BMus'21 and Danielle Cyr, Artist Diploma'20, along with undergraduate soprano Madeline Berman, and graduate students, Xiaomeng Chen and Daryn Nowlin enjoyed five weeks of study and performance of Italian opera at La Musica Lirica in Novafeltria, Italy.
 Based in Novafeltria, La Music Lirica is a summer opera program which provides the singers with five very active weeks of learning; including Italian language classes, two lessons each week, two coachings each week, as well as masterclasses, culminating in performances in local theatres with professional orchestra.
 Voice professor Patricia Green returned for the fifth time this year to teach at this program, in its 22nd year. Ted Baerg also taught at this summer program for several years. Students arrive from many international countries including the US, Brazil, Iceland, Mexico, China and Canada. 
Photos
Top left: Teatro Sociale, Novafeltria
Top right: Xiaomeng Chen, mezzo-soprano
Middle left: Madeleine Berman, soprano and Xiaomeng Chen, mezzo-soprano in a scene from Il Matrimonio Segreto
Middle right: Simmie Patoka as Zulma in L'italiani in Algieri
Lower left: Daryn Nowlin as Notary in Gianni Schicchi
Lower right: Danielle Cyr in Suor Angelica