PhD Candidate Eric Zwicker earns Indigenous Graduate Student Research Award at Western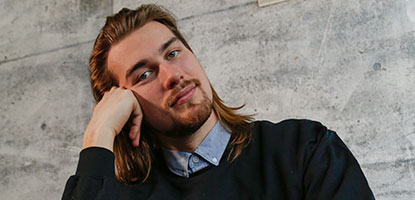 Musicology PhD candidate Eric Zwicker has been awarded the Indigenous Graduate Student Research Award at Western.
The Indigenous Graduate Research Award aims to grow the next generation of Indigenous scholars doing Indigenous research and to financially support Indigenous graduate students enrolled at Western with research-related expenses.
Eric is Ojibway, Anishinaabe, from Chippewas of Rama First Nation. He received his undergrad from Western University in Popular Music Studies, and received his Masters in Songwriting in England, at Bath Spa University. As he pursues a PhD in Musicology at Western, his goal is decolonizing music education.
In Eric's own words about his research:
"As an Indigenous artist-researcher the primary goal of my research will be to give back to my Indigenous community, Chippewas of Rama First Nation, by undertaking a research-creation project that utilizes Indigenous methodologies. Specifically, I will engage in a hybrid model of practice-based and practice-led research for this project to discover new information about music and the music-making process. Along with learning new knowledge about practice from practice, my work will culminate in a creative artifact (musical album) that will demonstrate how music can serve as a powerful tool to aid reconciliation. Furthermore, this research-creation project not only will exhibit how academic institutions can act as allies on the journey towards reconciliation, but also will propose decolonized methods for teaching and creating popular music in modern academic settings."
Eric is co-supervised by faculty members Jay Hodgson and Robert Toft.
---
Related Links
Indigenous Initiatives at Western University