Black History Month alumni feature: The Musical Journey of Dr. Jamie Hillman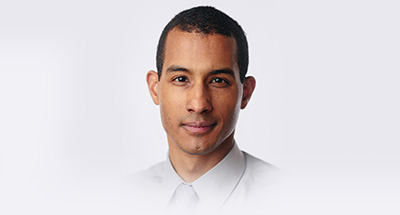 As part of Black History Month, the Don Wright Faculty of Music celebrates the accomplishments of Dr. Jamie Hillman, BMus'05 (Music Education), as conductor, singer, pianist, music educator, and composer.
Since graduating from Western, Dr. Jamie Hillman's, BMus'05 (Music Education), musical career has taken him to some extraordinary places.
Now, as Assistant Professor of Music at Gordon College in Wenham, MA, Hillman reflects on his musical and personal journey that has its origins where so many musical careers begin – in church.
"My love for music was fostered in my home church, where my family and I attended every Sunday and where my parents still attend," said Hillman. "Our ministers gave me opportunities to play the piano in church and do things before I was probably even ready. But, in a small town, you get those opportunities."
New influences
The motivation to come to Western University's Don Wright Faculty of Music coincided with the arrival of a new music teacher at his elementary school in Chatham, Christine Prosser, BEd'81. Soon, Prosser had Hillman and other students reading sheet music, singing in Latin, and insisting on perfection in every measure.
"At the time, I was thinking: 'Why isn't she allowing us to have fun?'" said Hillman. "But the hard work paid off."
Prosser took the school choir to competitions where they consistently won against more prestigious schools from Windsor and the surrounding areas.
Hillman began studying privately under Prosser throughout high school. Prosser and Kevin McMillan, BMus'83, were important influences in Hillman's musical life. McMillan was Adjunct Professor of Voice at Don Wright Faculty of Music, from 1998 to 2009, and an internationally renowned singer. Hillman recalls lessons with Prosser in her living room, and getting guidance from McMillan, who was listening in the kitchen.
"I still can't believe I had that opportunity in Chatham," Hillman said. Given these Western influences, when it came time to choose a post-secondary school for music, there was really no question about his destination. "I was going to Western."
Western and beyond
Western was where Hillman developed the lifelong connections, friends and colleagues that have been so important to his musical career.
He majored in Music Education with a focus on voice and piano, and recalls the many hours that he and his classmates would put in studying at local coffee shops in downtown London. But the private lessons with his professors were some of his favourite moments at Western.
"You're just one-on-one with your professor, working on your instrument, working on your voice. That was a highlight for me," Hillman said. "I loved being immersed in music. We were doing music nearly 24 hours a day. I would wake up early and be in classes at 8 a.m. Then I would be in the faculty of music building until 11 at night practicing. Then I would go home to bed and wake up and do it all again. It was so amazing."
After Western, Hillman went to the University of Illinois at Urbana Champagne to gain his Masters – a definite culture shock.
"I went into one of the huge dining halls and noticed that all the Asian students were in one corner, and all the Black students in another corner. Then all the white students were in another corner. I thought: 'Oh my goodness. Is this really happening?' Because I didn't notice these divisions at Western, it really was this culture shock moment."
His experiences at Illinois gave Hillman deep insights into the choral music of Black Americans, and he gained a deep understanding of spirituals and gospel music. And in a nod to his beginnings, Hillman returned to choral music as assistant conductor of the Black Gospel Chorus of 100-plus students.
Hillman's music career continued with a teaching stop in Prairie College in Three Hills, Alberta, before he returned to the U.S. to complete his doctorate at Boston University. There, he met his wife, Mi-Mi, and now they have two sons: Max, 6, and Andrew 4. It was also at BU that music enabled him to open new doors – prison doors.
Creating new opportunities
At BU, he became a research assistant for André de Quadros, Director of the School of Music. de Quadros became a significant influence on Hillman. So, as part of his doctoral work there, Hillman co-initiated a music program through BU's prison education program at a large, medium-high security men's prison, called MCI Norfolk, in Massachusetts.
Through choir, incarcerated men and women were able to find a creative answer for the boredom of being in prison. And they were able to express emotions that are normally too dangerous to show in a prison setting.
Through experiences like these, Hillman has learned how important it is to make music accessible to everyone. 
"I feel like there should be a place in our society for anyone who wants to be involved in music. Not everyone is going to be on the world stage. Not everyone is going to make a career out of it. But I feel anyone who wants to be involved in community or church choirs and community musicals and theatres, and who wants to develop their skills, should be able to find a place."
It is a philosophy that has not gone unnoticed.
Hillman was named "Teacher of the Week" in February 2020 by Eric Whitacre, an internationally renowned composer, conductor, and speaker. The write-up described Hillman's dedication to his craft as unparalleled and that "his commitment to the lost, the last, and the least among us truly makes him an incredible educator!"
Postscript: Journeying through the pandemic
COVID-19 has certainly taken an extraordinary toll during 2020, a toll that continues into 2021. Music and the arts have been hard hit everywhere. Hillman is thankful that he and his family are well. But many of his musical experiences were cancelled or postponed, including two Carnegie Hall performances, including his Carnegie Hall conducting debut, speaking at the World Symposium on Choral Music in New Zealand, guest conducting a Pan Asian honor choir in Taiwan, and returning to represent the U.S. on the jury of the Bali International Choir Competition in Indonesia. But there have been many new opportunities because of the pandemic, and Hillman is looking forward to the creativity we can expect when life returns.
"It may be a while, but I think when we are back together on-stage, music is going to come back stronger than ever," Hillman said.
Written by Cam Buchan. Photo provided by Jamie Hillman.
Posted February 25, 2021