Congratulations Spring 2021 Music Graduates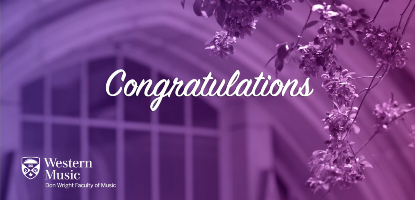 Today, on June 18, we publicly celebrate the remarkable achievements of all our graduating undergraduate and graduate students.
We are proud to share the following celebratory video, created with submissions received from many members of Music's spring 2021 graduating class, which was first shared on June 16 during a private celebration and awards ceremony for graduates and their families. A private link to the celebration will be shared with all graduates shortly. The video is set to music performed by the Western University Symphony Orchestra in December 2020. Bravi!
View Graduate Celebration Video (via YouTube, 6:39 min)
On behalf of Western University, we encourage all graduates to attend the campus-wide virtual celebration this evening at 7pm. As part of the program, Genevieve Fisher, BA'14 (Popular Music Studies) will be performing Somewhere Over the Rainbow to pay tribute to the 215 children who died at the former Kamloops Indian Residential School.
Read full article (via Western News, June 14, 2021)