Saxophone student Alessandro Calicchia earns prize at International Music Competition Opus 2021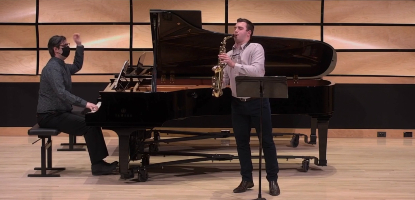 Congratulations to undergraduate student Alessandro Calicchia, who was recently recognized with a third-place prize at the International Music Competition Opus 2021. The second-year saxophonist performed Paul Creston's Concerto for Alto Saxophone and Orchestra, Op. 26. He was assessed by a jury with fellow musicians in his age range (born 2001-05) and finished in the top third of his category.
Calicchia was accompanied by Dr. Caleb Mora in his recorded submission (screen shot pictured above), and notes his collaborator was instrumental in his success.

This annual competition, established in 2019, is hosted by Life and Art Foundation in Krakow, Poland. The competition is open to young musicians (up to 35 years old) of select instruments of all nationalities.
---
Related links
About the International Music Competition Opus 2021
Saxophone at Western Facebook page