Weather advisory to impact Talbot and Medway parking lots Jan 11-12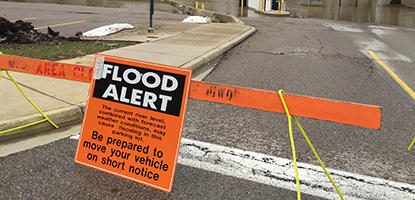 Due to flooding concerns, the Talbot College and Medway parking lots will be closed at 3 p.m. on Friday, January 10, 2020 and remain closed all weekend.
For those attending events at the Don Wright Faculty of Music over the weekend, the closest alternate parking lot is South Valley, a short 5-minute walk from the Music Building. The gates will be raised all weekend (additional lots listed below). Accessible parking outside Talbot and Music Building remain available for those with the appropriate hang-tags.
Statement from Western's Parking and Visitor Services
Upper Thames Conservation Authority has issued a Flood Watch for this weekend. With this potentially happening Saturday and through the overnight, we are going to take precautions and close the Medway and Talbot lots as well as the east section of the Chemistry lot on Friday afternoon starting at 3:00 pm. We will raise gates at Chemistry, Middlesex, Visual Arts, South Valley, Springett and Huron Flats lots at this time to provide alternatives for all permit types as well as visitors.

Technicians will remove the electronic equipment from our gate boxes on Friday afternoon to prevent flood damage. At that time we will put barricades and signage at the entrances to effected lots stating they are closed for flooding. 
Students in residence may wish to plan ahead by ensuring their vehicle is not left in the Medway lot heading into the weekend. We would encourage everyone to move vehicles to the alternative lots on Friday evening, in advance of the potential flood threat. Vehicles left in restricted areas as of Saturday morning will be towed to safe zones by campus police.
Thank you for your cooperation and assistance as we work to keep our lots safe this weekend.
For continued updates, please visit Western's Parking and Visitor Services webpage.